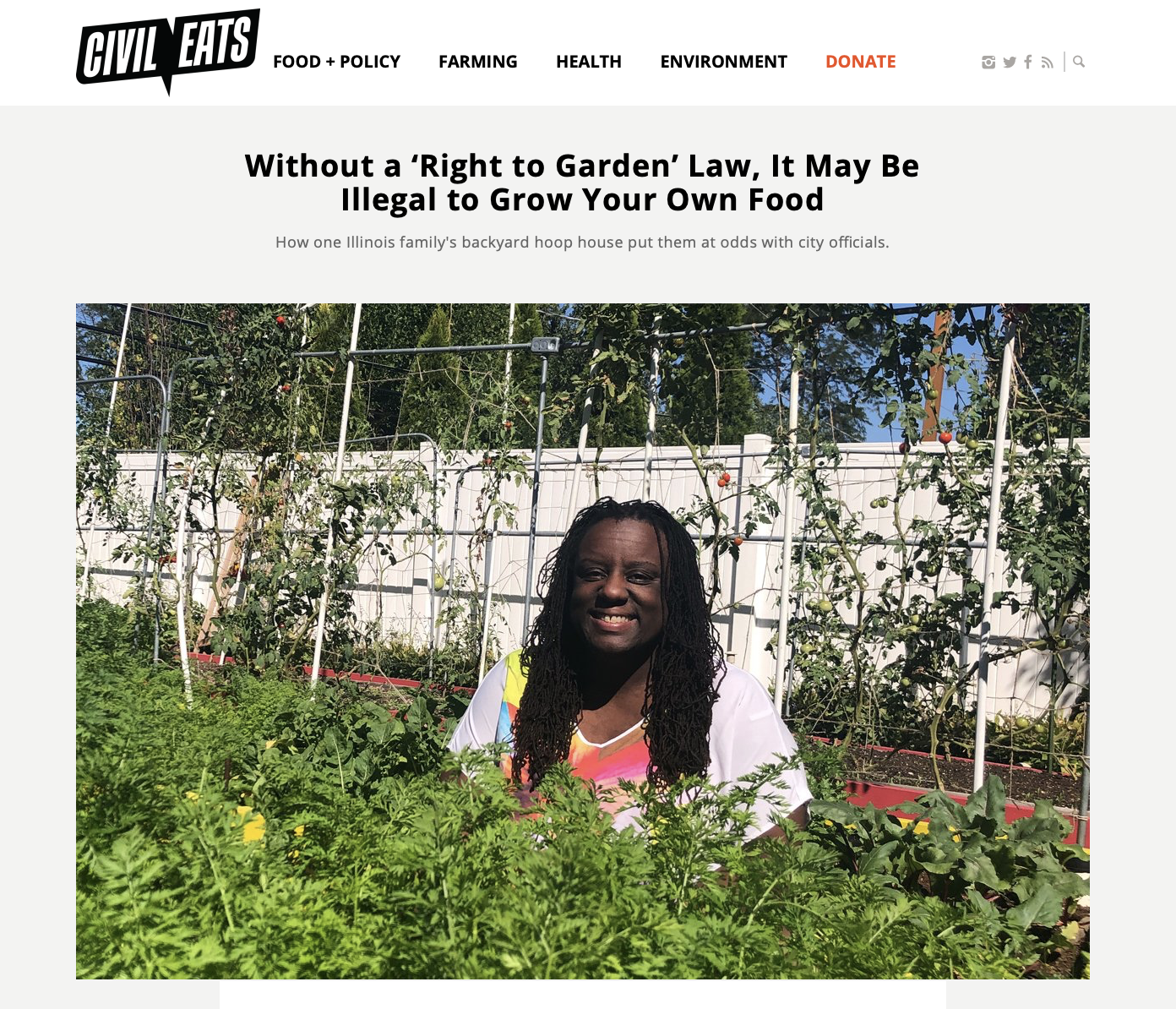 City ordinances that require a well-manicured lawn and ban most kinds of gardening +  bitchy neighbors + probably some racial crap = you can't grow your own food in your own yard. My solution: don't live in places that have such laws.
Nicole and Dan Virgil, who live in Elmhurst, a suburb of Chicago, are dedicated vegetable gardeners.

A few weeks after their hoop house went up, Nicole found a violation notice from the city taped to it. "I thought it had to be some kind of misunderstanding, that it couldn't possibly be serious," recalls Nicole. She had assumed that the hoop house, a lightweight temporary structure akin to a tent, wouldn't be subject to city regulations.

After several discussions with city officials, 16 public meetings over two years, a lawsuit filed by the Virgils, and a subsequent appeal, the city remained unmoved, siding with the neighbor who had filed the original complaint. The Virgils found themselves stuck in a catch-22 of having an unpermitted temporary structure while having no way to get a permit for a temporary structure. Facing a daily fine, they took down their hoop house.

Why would a backyard hoop house be so contentious? The Virgils are among many home gardeners around the country who have triggered a city or county ordinance that restricts edible gardening. It's fairly common for local governments to have a broadly written landscape ordinance, which may not explicitly prohibit vegetable gardening but requires grass or similar vegetation and calls for plants within a certain height.

The neatly manicured yard has long been a status symbol; lawns first appeared in the 1700s on European estates, whose owners could afford to have high-maintenance living carpets. And the suburbs have historically differentiated themselves from "ag land." "A lot of rural land was developed into suburban municipalities, and the zoning code was changed to prohibit agricultural uses—people didn't want a pig farm to move in," says Laura Calvert, the former executive director of Chicago-based nonprofit Advocates for Urban Agriculture.

Given the context, it's easy to see how the neighbors might look down on home gardening as a form of subsistence farming. "People think that it's beneath them," says Nicole, who documented her struggle in a recent op-ed for the Chicago Tribune.

The goal of these ordinances, whether they're about landscaping or temporary structures, is to maintain property values. (The racist practice of redlining, which kept African Americans out of the suburbs, was rationalized in the same way.) However, the perception that growing vegetables will drive down home values is "not rooted in any evidence," as Calvert points out.