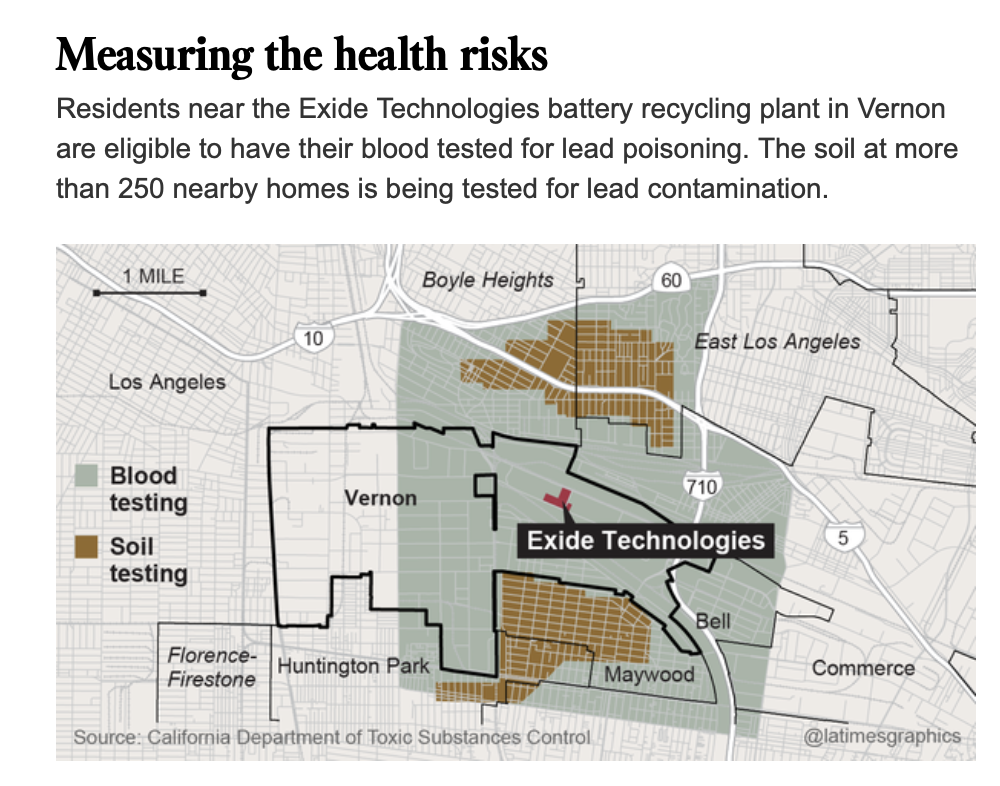 Map source: LA Times "Exide's troubled history: years of pollution violations but few penalties"
Making polluters pay for their externalities:
A bill currently sits on Governor Gavin Newsom's desk that proponents say will provide long-needed oversight of the Department of Toxic Substances Control (DTSC), the state agency responsible for regulating hazardous waste generation, management and toxic cleanup in California.

Broadly prescriptive, Assembly Bill 995 includes a requirement to develop a hazardous waste management plan, and significant changes to the way hazardous waste fees are calculated and managed in an attempt to help plug major financial holes within the agency. According to community advocates, it also creates new and vital safeguards for some of the state's most vulnerable, environmentally burdened communities.

Many environmental experts, legislators, community members and other critics of the DTSC say sweeping agency reforms like those included in the bill are a long time coming. And they say they are needed to prevent another environmental and fiscal disaster like Exide from happening again. Pollution from the former Exide Technologies lead battery recycling facility in Southeast L.A. has contaminated as many as 10,000 homes, impacted some 100,000 people and already cost taxpayers more than $250 million in cleanup costs, with waning hopes of the polluters ever being held fully financially accountable.
Source: Capital & Main