Geography 499: Sustainability Practicum
Spring Semester 2017
Update: Jan 20, 2017
Meeting: Monday 7-9 pm + Friday noon in Science Center 207
Dr. John Krygier
Office: Science Center 206
jbkrygier@owu.edu   |   http://krygier.owu.edu
Office hours: MWF 10-11, MWF Noon-1, or by appointment or chance
Sustainability & Environment at OWU Blog: http://sustainability.owu.edu
Class working blog: http://blog.owu.edu/sustainability-workblog/
As the concept of sustainability grows in importance the so does the need for tangible, applied efforts to realize sustainability as a daily practice for individuals and organizations (businesses, governments, universities, etc.).
Two problems are immediately evident. First, what exactly is sustainability? The term "sustainability" has been applied so broadly that its meaning, some argue, is compromised. Second, how do you put sustainability (however defined) into practice? It is easy to talk in platitudes: "the University should use more alternative energy," "there should be more composting, recycling, or local organic foods on campus," "why can't we have a miniature golf course on campus?," "OWU should sign the President's Climate Commitment." It is much harder to put such ideas into practice – but there are specialists – sustainability coordinators – who, given their training and institutional investments, make sustainability work.
Guess what? Here at OWU we have a strong, long-term interest in sustainability among faculty, staff and students. We also don't have a sustainability coordinator, comprehensive knowledge of sustainability methods, nor much money to work with.
Guess also what? Good! Or, at least, one might say that the situation at OWU provides us with an interesting educational challenge and opportunity. Can a group of students, staff and faculty move beyond platitudes and take sustainability on campus forward in a systematic manner?
Guess also also what what? We actually got quite a bit done in this class the last two times it was taught:
The largest accomplishment is a draft Campus Sustainability Plan that was mostly developed by students with input from faculty, administrators, and staff. Emily Howald (who took this class last spring) helped refine the Plan in the Fall of 2016 so it has the tentative blessing of faculty and staff. The plan should be ready to move forward and, hopefully, be adopted by the university. That is one of our goals this semester.
Along with Karen Crosman in the OWU Development Office we looked into grants for sustainable projects on campus. Increasingly, grants from external foundations are required to make sustainability projects work. We will explore the potential of drafting a grant proposal for a selected campus sustainability project this semester.
Students presented at the OWU Student Research Symposium and will do the same this semester.
A new dishwasher and reusable food containers at Ham Wil. This effort is struggling as students have been reluctant to use the containers. We need to work on ways to make this program work. One issue is that many students see the containers as too eco-geeky. Investigate redesigning containers to have an OWU (rather than recycling) theme. Potentially change name (Bishop Box rather than Eco Container)
May Move Out: continue this now established effort. Plan and organize and make it happen again. Last spring's effort put in place a viable program that does not cost the University any money. Our goal this semester is to get more students to donate and participate.
Efforts to reduce the sales of bottled water on campus with a focus on hydration stations. This effort is working, but we need to keep driving down bottled water sales with more hydration stations and promotion. May work on this in this class or task it to individuals (Geography 360 projects) or groups outside of this class.
Efforts to create a collaborative and sustainable (eg., it does not keep getting abandoned!) campus garden with the assistance of MTSO and Stratford and a collaboration on a Regional Food Charter. Potential funding from Honda Foundation (grant submitted, Fall 2016). We need to keep momentum going on these efforts this semester.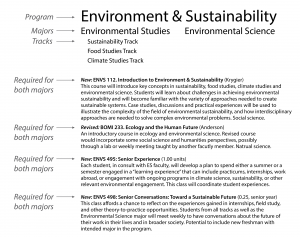 Continue efforts to expand Environmental Studies into an Environment & Sustainability Program. This effort is part of OWU's 2000 (students) by 2020 plan. The effort has been slow going, but many programs are engaged in the process. This semester should see the establishment of an Environmental Science major, to be offered in tandem with the Environmental Studies major. Of primary interest in this course, this semester, is development of a proposal for an introductory Environment & Sustainability course.
Efforts offer at least two .25 credit activity courses focused on sustainability (tentative approval, 2nd mod, Spring 2017). Emily Howald made significant progress on this project last semester and I would like our class to finish the effort including establishing courses and getting instructors.
Proposal to add "green infrastructure" to at least one floor of an existing dorm, to evaluate such enhancements on a larger scale on campus (Emily Howald).
Potential for a Green Fee to fund a campus sustainability coordinator (potential resistance to such a fee) (Emily Howald).
Outreach to other regional colleges: The email below is from Liam McIlroy at Denison. We will work this semester to engage in this effort.
My name is Liam McIlroy a senior ENVS major at Denison and I am reaching out to propose a project that I am coordinating for this 2016/2017 academic year. In brief, my aim for this venture is to finally establish an external, student-managed organization that serves to unify the environmental student-activists that represent each member school of the Ohio Five Consortium. Upon creating this student-organization conglomerate under the official title of the Ohio Five Student Coalition for Climate Action (OFSCCA), student-activists from each school will set their sights for the OFSCCA 2017 Convention. This will be a single-day event consisting of keynote speakers, campus sustainability initiative presentations (presented by the students) and a facilitated discussion portion that will allow students from each school to share and formulate potentially tangible solutions to campus sustainability issues as well as tangible contributions to the broader climate movement. The sky is the Limit!
Outreach to the new Delaware Watershed Coordinator as well as Sustainable Delaware and the local Citizens Climate Lobby. We have had good luck working with the Watershed Coordinator in the past. OWU has never been able to work in any sustained way with local environmental and sustainability organizations. We can, in this class, at least ponder the potential benefits and strategies for outreach to these local groups.
Construction of Chimney Swift Towers (Dick Tuttle): we should have a donation to fund these towers in place this spring and can start construction. We may be involved to the extent of publicizing this effort at making the campus more environmentally friendly to wildlife.
Define a plan for publicizing our work and sustainability on campus, culminating in events around Earth Day 2016 (April 22)
Additional projects we may undertake: I may also farm these out to Geog 360 students:
Composting: a private company is interested in working with OWU on composting our food waste; in addition, we have been contributing some food scraps to Alex the Worm Guy.
Promote Earth Hour and light pollution awareness (project started in Geog 360, Fall 2016).
Meek Retention Pond Plantings: we have funds but have not been able to implement the plan.
Environmental Studies Spring Outing (at MTSO or Stratford)
???
What we have going for us:
A campus community with interest in and commitment to sustainability (in theory).
A Sustainability Task Force (STF) on campus, with student, staff and faculty involvement.
Two successful semesters of this course laying the groundwork for additional efforts this semester
Groundwork on sustainability laid by our former Sustainability Coordinator, applied sustainability work in courses like Environmental Geography (Geog 360) over a half dozen years, work by Buildings and Grounds to incorporate sustainability in projects on campus, work by Chartwell's to incorporate sustainability in the food service on campus, work by student groups, SLUs, and individuals on specific sustainability projects.
---
What is a practicum? The dictionary says "the part of a course consisting of practical work in a particular field."
---
 My philosophy for this course: 
Scrappy Sustainability: students, staff and faculty figure out how to make sustainability happen on campus with no full time staff and few funds: this stuff ain't going to get done otherwise at least in the short term. It is good experience to try to make something real happen under challenging circumstances.
Take Initiative: one of the more important things I learned in college (eventually) was to take initiative and develop my ability to actively engage in courses and collaborate with my peers. I expect you to do the same. I need you to do the same!
Read a Bit: to get us thinking, a new book (I've not read!): Peter Frase: Four Futures. It's short and for paper $10 and Kindle $3 at Amazon (It just came out so I did not have the bookstore order it). I'll add a few other short readings.
Think About Stuff: while our goals our practical, they are in a context of larger issues which are vital:

What does sustainability mean?
Why are we doing all this sustainability stuff?
Why is there push-back against sustainability?
Does sustainability undermine individual freedom and demean humans?
What is the psychology and politics of sustainabilty?
Can we gain something more than just practical outcomes in this kind of a course?