---
Week 1: January 12/13
Week 2: January 19/21
Tuesday Jan. 19: Planning Course & Work
Thursday Jan 21: Discuss Psychology of Sustainability, through section 2. Continue discussion of projects (which ones to focus on, work individually or in groups, plans [eg., schedule meeting with Stratford & MTSO]), etc.
Week 3: January 26/28
Tuesday Jan. 26: Discuss Psychology of Sustainability, section 3 to end. Discuss memo to STF (presented at Tues. Jan 26 meeting of STF), including our recommendations for what to stress in revised Plan,  deadlines [draft by Week 12, March 29/31 to go to designer [Communications? Art Department? Ourselves?] to have presentable draft by Green Week, Week 15, April 19-21], ideas for promotion, [short blurbs to each program on campus hi lighting one or two sustainability projects related to the program, with link to overall Plan], and our interest in meeting with STF members to aid process.

Ally & Blake: draft reusable food container strategy memo
Zanna & James & Emily: draft May Move Out logistics memo
Ally: vision stuff for food collaboration (contact Chris Fink, meeting of OWU, Stratford, MTSO). Tentative Vision Document here: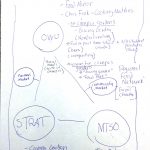 Thursday Jan 28: Draft memos for May Move Out and Reusable Food Containers.
Week 4: February 2/4:
Tuesday Feb 2: Meet with Gene Castelli / Chartwells re: Reusable Food Containers (and Real Food Challenge). Memo here.
Wednesday Feb 3, 3pm: Callan Yanoff (Geog 360) and Jeff Kaufmann (Delco Water) meet at Meek Aquatic Center re: planting native species.
Wednesday Feb 3, 4pm: Ashley Tims (Geog 360), Dustin Reichard (OWU Zoology), Kyle Davis and Dick Tuttle meet at 207 Science Center re: chimney swift towers.
Thursday Feb 4:

May Move Out memo and timeline: set up meeting?
Food Collaboration meeting
Promote!: 7pm @ Merrick 3rd: Robin Nagle on "The Gift of Garbage: Ethnographic Curiosities of Value, Waste, and Infrastructure."
Week 5: February 9/11:
Tuesday Feb. 9:
Thursday Feb. 11:

10am: Meeting with Karen Crosman on Grants & Foundations
11:30: Meeting with Chloe Dyer & Food Recovery Network
Week 6: February 16/18:
Week 7: February 23/25:
May Move Out Volunteers Recruited
Week 8: March 1/3:
Week 9: March 8/10: Spring Break
Week 10: March 15/17:
May Move Out Promo? Set date and time and coordinate with Goodwill
Week 11: March 22/24:
JK away?
May Move Out Volunteers at Goodwill
Week 12: March 29/31: Revised Sustainability Plan Due?
Week 13: April 5/7:
Tuesday April 5
Thursday April 7: Maybe Stream Cleanup, 10-1pm
Week 14: April 12/14:
Tuesday April12
Thursday April 14: Maybe Stream Cleanup, 10-1pm
Week 15: April 19/21: Earth Day Week! Revised Sustainability Plan designed and promoted.
Week 16: April 26: