Geog 499 Sustainability Practicum, Spring 2018
Updates: 1/25/2018
Week 1: January 18
Week 2: January 23/25
Tuesday Jan. 23:

Planning Course: Readings & Work

Thursday Jan 25:

Discuss assigned readings. Continue discussion of projects

 (which ones to focus on, work individually or in groups, plans [eg., schedule meeting with Stratford & MTSO]), etc.
Week 3: January 30/ February 1
Tuesday Jan. 30:

Discuss readings. Discuss projects. Discuss & develop memo to STF, including our plans for the semester, deadlines. Develop memos for course projects to be sent to relevant staff, faculty, etc.

 Discuss previous memo sent to STF as a model for our 2018 memo (promoting adoption of Sustainability Plan, promotion, projects for spring 2018, goals, what kind of help can STF provide, Green Week plans, etc.).

Previous semester tentative Vision Document here: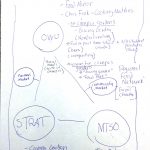 Thursday Feb 1: Draft memos for May Move Out and other continuing projects.
Week 4: February 6/8:
Tuesday Feb 6: Meetings: Best prefaced with a memo prior to meeting with "real people." Example memo here.
Thursday Feb 8:

May Move Out memo and timeline: set up meeting?
Food Collaboration meeting
Week 5: February 3/15:
Tuesday Feb. 13:
Thursday Feb. 15:
Week 6: February 20/22:
Week 7: February 27/ March 1:
May Move Out Volunteers Recruited
Week 8: March 6/8:
Week 9: March 13/15: Spring Break
Week 10: March 20/22:
Week 11: March 27/29:
May Move Out Volunteers at Goodwill
Week 12: April 3/5: Revised Sustainability Plan Due?
Week 13: April 10/12:
Tuesday April 10
Thursday April 12
Week 14: April 17/19: Earth Day Week!
Tuesday April 17
Thursday April 19
Week 14: April 24/26:
Tuesday April 24
Thursday April 26
Week 15: May 1:
Tuesday May 1: Last Day of Classes
Week 16: Finals
All materials due by the end of the scheduled final exam period for Geog 499.
---
---
Experimental Group Calendar: Use or Not?
---