When I got the group email from Professor Butcher asking if someone wanted to introduce Martha Park for the Sagan National Colloquium, I waited a couple of hours before responding. "If no one has responded, then I can do it," I wrote. The idea made me nervous because I don't like public speaking. Obviously, that wasn't smart of me because I ended up being the one that Professor Butcher selected.
If you have never introduced a speaker before, then you may have never thought about what goes into an introduction. At least I never had. But you should try new things or you'll regret not taking the chance. At least that's what I thought when I responded to Professor Butcher. 
What do you say, though? I emailed Professor Butcher to ask for advice. Professor Butcher sent me links to Park's blog and the literary website Granta with her recent piece, and then examples of other speaker introductions. I noticed some patterns. Make sure most of the speech is about either the topic that the speaker is going to discuss or about the speaker themselves. Mention all the awards, prizes, etc that they have won. Research where they went to school and where they are from. Overall, you make them feel very welcome and the center of attention.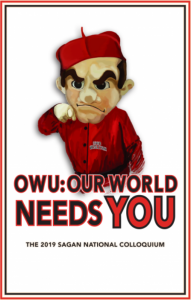 I created a couple of paragraphs using the content from the links and the structure from the examples. Afterward, I thought about if I should introduce myself first or if I should connect myself to the work. I decided to only say my name, year, and major. It would be best to focus on the reason why people came here.
I wanted to make sure that my draft made sense and was free of errors, so I made an appointment at the Writing Center with Professor Martine Stevens to help me with it. She helped me structure the introduction so it would flow better. She also helped me find some awards that weren't on Martha's blog and some additional information from event flyers and social media advertisements. While we knew no one but Professor Butcher, Martha, and I would be able to see the speech, Martine and I wanted to make sure that we had italicized everything that was supposed to be italicized and that everything was grammatically correct.
After meeting with Martine, I sent the rough draft to Professor Butcher. She gave me Martha's email address and offered some additional recommendations. I then sent it to Martha herself and asked her some questions to make the introduction more effective. Martha gave me her notes and answered my questions. By the time I was done, the introduction had gone through four drafts. That wasn't the most difficult part, though. 
On the day of Martha's presentation, I arrived early in the Bayley Room in Beeghly Library. As soon as I started to see people, I began to panic. There were about twenty people in attendance, but that was the least of my worries. Scanning the room to get situated, I saw my worst nightmare… A video-camera. I was going to be filmed! That wasn't what I was expecting at all. My mind was in a whirlwind of critical thoughts about how I should've dressed better, wore makeup, done my hair. A professor caught me panicking, but I didn't show my full emotions. I laughed and tried to brush off the camera. Professor Arnold, the Director of the Sagan National Colloquium, introduced herself to me and expressed how she was excited for a student to introduce. When I said it would be my first time, she was excited. She helped me get over my fears until it was time to go to the podium.
As I started to speak, my mind began racing. I had my head down most of the time, although I tried to speak into the microphone. I went off script and made people laugh with my awkward pointing at professors and speakers. I tried to keep my breathing silent as I tried to stay calm. As soon as it was over I ran to find a spot to sit and dreaded what I was going to hear from people when it was over… Yet, when they came, everyone told me I did a good job and that my speech was lovely. It really took the weight off my shoulders knowing that I wasn't judged.
Here's the introduction in case you're curious:
Hello, my name is Faith Wogan. I am a Senior at Ohio Wesleyan where I am a Sociology major and an English minor, and on behalf of The Sagan National Colloquium and the Department of English's Poets & Writers Series, I am delighted to welcome a recent alum, Martha Park, back to OWU. Martha graduated in 2011 with a double-major in English and Studio Art, and while studying at OWU she was awarded the "Class of 1870 Memorial Prize" and the "Sallie Thomson Humphreys Art Award."  She also received the "Marty Kalb Purchase Award," the "FL Hunt Prize" for promise and proficiency in Creative Writing, and the "James Leslie Award" for Peace and Justice. After graduating from OWU, Martha attended Hollins University, where she earned a Master of Fine Arts in Creative Writing. At Hollins, she was awarded a Teaching Fellowship, served as the Assistant Editor of the Hollins Critic, and was also the recipient of the Melanie Hook Rice Award in Creative Nonfiction, judged by Lia Purpura.
Since graduating from Hollins, Martha has served as the Philip Roth Writer-in-Residence at the Stadler Center for Poetry at Bucknell University. She's worked as a nonfiction editor for West Branch Journal and edited the Tennessee volume of the Best Creative Nonfiction of the South anthology. Martha has also worked as a freelance writer and journalist, reporting for The Atlantic's CityLab and MLK50: Justice through Journalism, and has interviewed people like New Yorker staff writer Jelani Cobb, photographer Sally Mann, and fiction writer Karen Bender.
Martha's work has appeared in The Atlantic's CityLab, Granta, Ecotone, and many other publications. An avid graphic essayist, Martha recently collaborated with OWU's own Amy Butcher for a graphic work called "Consolation Puppies," which was published last year on Granta. Her written and graphic works are incredibly accomplished and often deal with issues of the gentrification of the south, urban spaces, and environmentalism. She combines written words with line drawings in a drawing style that she describes as fairly playful or whimsical to bring the work to life in a broader perspective–especially if the accompanying story is heavy, which makes it more personal and real.
She joins us today to discuss her creative process and how she went about conceptualizing and creating several graphic essays. Please welcome OWU's own Martha Park.