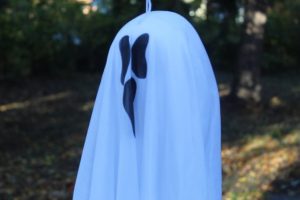 Adorned on either side by the headstones of the deceased, the stage was ready for the ominous performance that would soon grace it. Spiderwebs hung from the trees, glistening with the droplets of the recent rain, shaking with the movement of the spider crawling slowly toward its prey.  Meanwhile a ghost floated stationary in the air, waiting to scare of all who dared pass by. A glance at the aged and weathered oak tree would reveal the ghoulish sign:
"Welcome to the Spooktacular Evening of English…"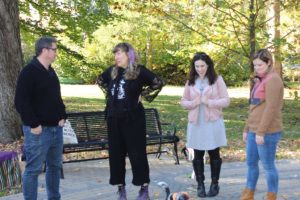 Alright, well… dramatics aside, this year's English Department social hosted by the English Student Board may or may not have been a bit more whimsical than frightening.  Outfitted with a "Hallow-queen" photo booth, literary mad libs, and a make your own trick-or-treat bag station, the Spooktacular Evening of English offered many a festive activity.  A colorful pathway made of fall leaves led to the "stage" situated at the center of the Labyrinth, where students and faculty alike were able to share their selected Halloween-appropriate readings.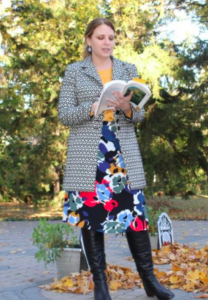 This years event, accessorized beautifully with a day of picturesque fall weather, provided the opportunity for students and faculty to get to know each other better, in addition to sharing their passion for English in various forms. Both professors and students were able to take to the stage and read their selected works to an eager audience. Readings ranged from Shakespeare to "Scary Stories to Tell in the Dark," all of which beautifully and often eerily encapsulated the spooky theme of the day.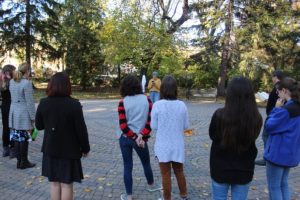 This year's English Department social proved successful in all of its spooky glory, a literary celebration to ring in the end of October. The English Student Board would like to thank Zack Long and Sharon Schrader for their assistance in the preparation for the event, as well as all the professors and students who attended. We hope the English Department will look forward to next year's event…if you dare.