One of the things that attracted me to OWU was the Small Project Grants program that allows students to request funding for off-campus projects to do things related to their major. I was excited when I had the chance to apply for one to go to New York, but I was even more thrilled when I learned that I got it! I was working an office job last summer for extra money (I was determined to go to New York even if I didn't get the grant) when I got the email notification: "Congratulations–you've earned an SPG!" I was so excited I had to leave the office and walk around for a bit. 
I've known that I want a career publishing for a while, but I didn't know much about how the field worked or how to get into it. The only time I had been to a publishing house was when I visited London with my mom and managed to convince the receptionist at Bloomsbury, the publisher of Harry Potter, to let me in to ask questions. But I knew I couldn't sneak my way into a publishing career. So I applied for an SPG to attend Epic Reads Day 2019 at HarperCollins Publishing, where I would not only get to attend panels on publishing, but also meet authors and get free books.
Epic Reads is HarperCollins Publishing's social media advertising group for their young adult books. They write blog posts, make fun videos, post cool pictures on social media, and anything else it takes to get people excited about HarperTeen books. Besides learning more about Epic Reads, I got to hear from other HarperCollins publishers about what they do as well. While the panels were entertaining and informative, my favorite parts of the day were my one-on-one interactions with the people there. I talked to publishers and they answered my questions and gave me advice on how to get started in the publishing world. I also rode in an elevator with YA author Tahereh Mafi, who noticed when I dropped my ID and picked it up for me. However, the definite highlight of my time at Epic Reads was getting to meet one of my favorite authors.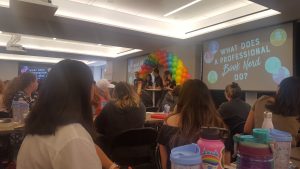 Victoria Aveyard, author of the Red Queen fantasy series, is important to me because she writes novels that are fun to read and relatable at the same time. Although her stories take place in alternative worlds where humans have evolved to the point where they have different blood colors, the people in her stories have problems and make mistakes that people in our world can empathize with. This gives a real aspect to a high fantasy story. When reviewing the agenda for Epic Reads Day, I noticed that Aveyard was going to be speaking on one of the panels. I wasn't sure how much of an opportunity I would get to talk to her, so the night before the event I wrote her a letter that expressed what her work meant to me and the next day anxiously waited 5 hours through panels to give it to her. 
 To my dismay, Aveyard did not make an appearance at the event before her panel like the other authors did. But when I got my chance to meet her I did not waste it.  When it was time for book signings, my table was one of the first called to go to meet her. I remember walking up to her and she shouted, "OHMYGOD I LOVE your shirt!" (The shirt I was wearing said, "I could set this world on fire and call it rain," which is a quote from her book.) One of the things we have in common is that we both love maps, so I told her this and she called me one of her people. For the remainder of our conversation we talked about Harry Potter, especially how not all Slytherins are evil (she's in Slytherin). Then we took a picture together before I left. I was sad because I couldn't stay and talk to her longer, but grateful I got to meet her.
Epic Reads was a fun day, but it went by too fast. I met some amazing people and learned things I can apply to my classes and future career. Receiving an SPG to attend Epic Reads Day was my favorite thing that I've done through OWU and made me thankful for my college choice.