How did you get interested in publishing?
I'm not sure that I could pinpoint one specific thing that got me interested in publishing. It sort of started the way anyone gets interested in English as a college major. Back in junior high/high school English classes, I had a teacher who was so passionate about literature and personally encouraged me to think about doing something with my writing skills. I knew how difficult it would be to have a steady career as a writer and needed something more stable. Honestly, one day it just dawned on me that I should pursue editing, but of course I had no idea what all that truly entailed. As the years went on, it became bigger than just my high school interest in fiction, and I discovered that publishing was really a gateway into being able to flesh out and share real-world research and practical methodologies for everyday problems. I have been lucky enough to have had internships and freelance partnerships that focused on everything from creative nonfiction essays to aeronautic equipment textbooks to gender and sexuality monographs, which allowed me to dabble in different areas of publishing. While I still loved (and love) fiction, recognizing the hand I would be able to have in spreading valuable information and ideas in academic publishing was so rewarding. I'm proud of the work I get to do, and I know that after it goes to production, it will have the power to make a difference.
What was your first publishing job and how did you get it?
I guess it depends on what you define as being the "first" and what you describe as being a "job"! My first unofficial entrance into publishing was back in my hometown. I spent the summer before college as a copyediting intern. It was a very small (and only weekly) newspaper, which really only covered the village of 4,000 people I lived in, but it was still a great experience and the staff couldn't have been happier to teach me about the process. As for how I got that job, well, being in a town of 4,000 meant that I grew up with the editor-in-chief's daughter and therefore felt comfortable enough to reach out to her about it. It's scary to think about, but even without having had such a lucky connection I would highly recommend contacting professionals you'd like to work with. Maybe they'll ignore you, but maybe you'll end up with a great connection to other companies, job openings, or career advice. 
What do you do for your current job and how did you get it?
My current job as an Editorial and Production Assistant at The Ohio State University Press is my "first" real "job" in publishing—meaning it is my first full-time job where I'm not an intern. (As a side note, publishing is a world where "job" in general can mean many things to many different people since so many of us work on freelance projects–like copywriting for companies or editing materials for associations/organizations that don't have an in-house editor.) I moved to Columbus for a full-time internship at McGraw-Hill Education with the plan to apply for jobs while I was working. A few months in, a job posting appeared for The OSU Press, which in my mind was perfect: academic publishing, focused on the humanities (like my minors and personal interests), and not-for-profit. I sent in my application and proceeded to email everyone on their website about it. Maybe this was over-eager but, well, I was eager. Within a few days I was asked to interview and by the start of the next week I was hired. Months later, my manager actually told me that the handwritten thank-you note I left after the interview was what sealed the deal between me and one other identically credentialed candidate (so yes, when career advisors say to leave thank-you notes, do it!).
Are there particular classes or experiences from your time at OWU that have proven especially helpful in your work or that you would recommend to others?
In the English department specifically, exploring narratives and rhetoric has made it much easier for me to work with text in a broader sense, regardless of the topic, and that is so important in publishing. A few classes that stick out are "Writing for the Workplace," which gave me a better idea of how to direct a text toward a specific audience; "Critical Methods," which forced me to think more critically about the lenses through which different audiences and cultures might perceive or respond to a text (and it was my favorite, so of course); and "Narratives 1: The Short Story," which taught me how to fit several big ideas into a small, but still coherent and poignant, piece of writing.
I was also able to participate in a summer internship at a small publishing house through the Chicago Center program through the Sociology department (though any majors can apply). It required us to apply and interview for several internships in our respective academic or career interests, which is great professional experience in itself, and then complete an internship over the course of eight weeks. This gave me a short but important "this is what post-grad life is like" experience and allowed me to get an inside look into publishing, confirming that I wanted to pursue it professionally after college.
What's your favorite part about your job or the industry in general?
My favorite part of my job is being able to learn while I work. Our press focuses on humanities and social sciences, which fall in line with my minors at OWU, so being able to tie those in with my career has been so fulfilling. Being in a work environment with like-minded individuals and having discussions about the subjects I'm most passionate about makes me excited to go to work every day.
The academic publishing world is very small: you start to recognize names of people you've never met in states you've never been to. This creates camaraderie between presses (who should technically be "competition") for winning awards or publishing groundbreaking research, which is what I love about the industry in general.
Would you recommend going to grad school for someone who wants to go into publishing?
That is a loaded question. Everyone of course needs to make the decision about grad school on their own, based on a variety of personal and financial factors, but I would not say it is necessary to go to grad school to work in publishing. That said, almost everyone in higher positions who works in publishing does have a graduate degree because the further you get into developmental editing and acquisitions, the more necessary it becomes. In my entry-level role I only needed a Bachelor's degree, but these kinds of roles are also few and far between, as most presses or publishing houses will have more Acquisitions Editors than Editorial Assistants. I had quite a few freelance and internship roles to fill out my resume, which made a huge difference and could prove my practical experience. So, no, it isn't necessary, but for those who choose not to go to grad school, seek out and take any internships or freelance work you can find because being able to prove your practical experience in lieu of that graduate degree is going to make you stand out.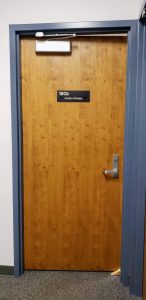 What advice would you give someone who is looking for a job in publishing?
As I said previously, take any freelance work or internships you can (LinkedIn is great for finding freelance opportunities and many freelance writing/editing jobs can be done remotely!). This will obviously be great for your resume, but you will also learn a lot about how different kinds of presses operate. Publishing is not what I would call a "normal" industry: different publishers/presses focus on different disciplines; their goals aren't always the same (especially between academic and commercial publishers); they all market to different audiences; and they all need their internal workflow to reflect those different factors. Because of that, finding a niche you're interested in (childrens' fiction, scientific research, nonfiction essays, etc.) will allow you to hone your skills for that particular area and make you more valuable as a candidate in those fields when full-time positions appear. But while you're figuring out your niche and how to get there, explore different areas and see what sticks with you. So my (general) advice really boils down to: say "yes" as much as possible!