How did you get interested in publishing?
When I was studying at OWU, all I really knew was that I wanted to write for a living. During my gap year, I moved to Hawai'i and focused on writing a novel while working on a whale watching cruise ship; I spent a lot of that time on Indeed, scrolling through industries that seemed related to writing or editing. I saw a lot of jobs like "technical writer" and "video editor" and "news editor" and honestly I wasn't that interested in those jobs. I don't remember the first job I found that was in publishing, but I had a breakthrough moment where I couldn't believe that I hadn't noticed that was an option. After this, I fell down the rabbit hole of researching the Big Five (HarperCollins, PenguinRandom House, Simon & Schuster, Macmillan, and Hachette), their imprints, and blogs from publishers with advice about how to break into the business. I was searching for something that I had a passion for that wasn't just reading and writing and I knew I had found it when I realized one afternoon that I had 23 open tabs on my laptop all related to "how to get a job in publishing."
What was your first publishing job and how did you get it?
When I moved to Washington D.C. earlier this year, I applied to several publishing jobs, mostly at the associations in DC (e.g., American Psychological Association). I found my current job at a magazine (Tax Notes) posting on Indeed and got an email the following day asking for a phone interview. The day after my phone interview, I got an email inviting me into the office to interview with the Executive Editor of the Commentary team. The following week, I had the job. I started out as an assistant acquisitions editor and was promoted in August to the associate acquisitions position. 
What do you do for your current job and what's your average day like? 
As an acquisitions editor, my day-to-day changes frequently. I work on a fast-paced team with three other really amazing women and get new projects regularly. Together we handle outreach for the magazine to bring in new authors, the weekly podcast, social media, data on submissions and page hits, newsletter designs, conference outreach, copyright agreements, permissions, author bios, our student writing competition, and congratulatory gifts. I have a lot of freedom to come up with new projects as well; a few weeks ago I pitched the idea of creating awards for our contributors for the 2019 calendar year and my boss said, "That sounds great, go for it!" I definitely thought that I wanted to be a content editor instead of working in acquisitions, but there is something to be said for working on the front end of submissions—I'm amazed at how much freedom I have at work.  
Would you recommend going to grad school for someone who wants to go into publishing? Why or why not?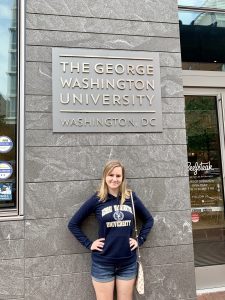 Yes, I would, but I don't think it's the right choice for everyone. It was the right choice for me and I've managed to meet a lot of people with similar interests, which has been a real gift after leaving my community at OWU. Some of the things I've learned at George Washington University this semester have to do with eBook creation, design software, marketing, acquisitions, distribution, ethics in publishing, and finances. Next semester I'll be studying copyright law and the business side of publishing. I have found my graduate program fuels my day job working in acquisitions and vice versa. I don't plan to stay at my current company forever (though, who knows, I just might) and I'm positive that this publishing program will make it much easier for me to learn the ropes at a new publishing company because I will have gotten an introduction into production, marketing, editorial, software, publicity—all kinds of things that can fuel any position at a publishing company.     
What advice would you give someone who is looking for a job in publishing?
There are a million options in publishing that exist outside of the Big Five. Don't limit yourself to starting off with your dream job at one of these publishers. My dream job is definitely to work in trade publishing, either in fiction or nonfiction, at a larger publishing house. Right now, I'm working at a tax magazine publication outside of D.C.; the content of our publications has very little to do with my personal interests. And I love it so much here. I have a great team and a voice, I have the power to say "this is something new that our team should do" and actually be heard. One speaker that came to one of my classes this semester quit his job at a large publishing house because he said that he felt like his voice got lost in the hustle of the company, that he didn't matter personally and this acknowledgement made me understand and appreciate how lucky I am in my current position. No, it's not a dream job, but I'm valued and important and I have the power to make decisions and create projects and make a difference. I had no idea that I could love working at a tax magazine so much, especially with no background in the subject matter, but my advice is not to limit yourself. All of the blogs will tell you that breaking into publishing is the hardest part of working in publishing, so just know that there are many options outside of a trade publishing house.
Are there particular classes or experiences from your time at OWU that have proven especially helpful in your work or that you would recommend to others? 
Oh, definitely. Because my love for writing is what brought me to publishing, I'm going to recommend taking as many writing classes as you can. I think I took four or five, but my favorite writing class by far was with Amy Butcher. She was the gem of my time at OWU and I still try to keep up with her as much as possible. Amy has this way of making the students in her class feel understood, important, powerful even. When I first started learning about creative nonfiction as a sophomore, I felt more agency than I had ever known. I learned while sitting in her class how to speak up and say what I felt and not shy away from it. Honestly, I think that every English major could benefit from "Writing Essays." The capstone advanced creative writing class is also very important.
Another class that I took at OWU that changed my life was "Postcolonial Literature" with Nancy Comorau. In my exit interview with the English Department, I made the suggestion that that class be a university graduation requirement. I learned the importance of listening to underheard voices, paying attention to power dynamics, and understanding empire and country and citizenship. I learned a thousand things in that class. Are these directly related to publishing? Not necessarily, but I think Nancy's class is an important step in literary study and Amy's class is a foundational part in understanding your own voice.
Also, run for the English Student Board!