If I had to recommend something that every English major should do before they graduate it would be to go on a literary pilgrimage. My mother read me the first Harry Potter book when I was in fifth grade and I have loved the books and movies ever since. Last year I went to London with my mom and I turned a mother-daughter trip into a hunt for Harry Potter book and film sites. It was a vacation full of "right place at the right time" moments.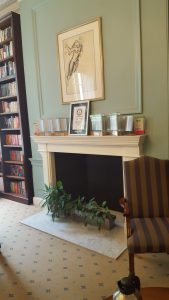 Since I'm interested in a career in the publishing industry, I wanted to see the place that published the Harry Potter books. So after going to the British Museum, my mom and I walked a few blocks to Bloomsbury Publishing. Normally you're not allowed in without an appointment, but I figured it couldn't hurt to knock on the door. When I did, a woman walked by and asked me what I was doing. When I told her I was interested in a publishing career, she went inside and buzzed me in–it turns out she worked there. The only way I can describe the inside of the building is relaxing. It wasn't a gigantic business building; it looked like a house. It was quiet and there were bookshelves covering the walls. Every book was one they had published. They also had a ton of Harry Potter awards hanging above a fireplace. I spoke to another woman who worked there and she answered my questions and recommended a couple of publishing websites to check out. 
Harry Potter aficionados know that the Australia House in London was Gringotts Bank in the Harry Potter movies. However, websites that list Harry Potter film locations usually warn against going there because fans are not allowed inside. Knowing this, we decided to go anyway! At least we could see the outside. While we were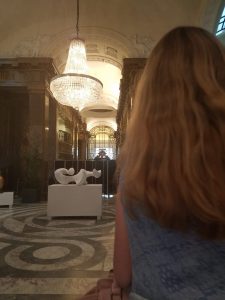 taking pictures, I saw a man walk in. When I saw that I thought that I could at least try to go in, too, so I waltzed right through the doors only to find more doors and guards blocking the way. One of the security officers called me to him. He whispered to me, "If you go around back, you will find a door. Act like you're interested in sculptures." My mom and I were surprised and confused, but we did what he said. The security guard who was guarding the back door checked our bags and let us in. Three sculptors were having a Q&A session and several of their pieces were on display. My mom and I were extremely underdressed for the occasion, and I think the guards knew that we weren't actually there for the sculptures, so they kept a close eye on us while we looked around. The inside of the Australia House was beautiful. Even though sections of it were blocked off, it was obvious that it was Gringotts. My mom managed to take a few "illegal" pictures when nobody was looking (go mom!). We are very proud of our adventure into the forbidden Australia House. 
Another place we went was the House of MinaLima, the museum for the graphic art from the Harry Potter films. This gallery is four stories tall and you can find anything from the movies there, from Platform 9 ¾ tickets to candy wrappers from Honeydukes. The art was beautiful, but the highlight of our visit was meeting Eduardo Lima, one of the graphic design artists for the films. He showed up towards the end of our visit. I bought a Platform 9 ¾ ticket and he signed it for me and we also talked about theatre. I was so excited to meet someone who had worked on the Harry Potter films.
Although our Harry Potter pilgrimage was full of many "right place, right time" moments, not all of our adventures were a success. When my mom and I hear the name, "Chez Michele," many emotions flood through us: frustration, a little anger, but mostly we want to laugh. According to Harry Potter websites, a flower shop called Chez Michele, located in Borough Market in London, was used in filming as the Leaky Cauldron. Borough Market had other Diagon Alley sites, too, so my mom and I decided to stroll through the market and find them. Little did we know, we were on a wild goose chase for a flower shop that had moved locations. We asked several people for directions, but they either didn't speak English, or they had no idea what we were talking about. We had suspicions of where we thought it used to be, but we eventually gave up and got dinner. When we told our waitress our dilemma, she told us that the flower shop was not there anymore. 
Even though we couldn't find Chez Michele, my mom and I now have a fun story to tell. And there were so many other cool places we visited too, like Harry Potter Studios, the Oxford University filming sites (the Bodleian Library was my favorite), the street filled with cute book shops that's rumored to have been the inspiration for Diagon Alley, and more. Our literary pilgrimage was the trip of a lifetime. I got to see the places that helped bring my favorite book series to life and I grew closer with my mom in the process. If you have the chance to take a literary pilgrimage before you graduate, especially with a fellow fanatic, I would seize the opportunity.