A big struggle most college students face is the question, "What am I going to do after college?" And the answer is often not so simple. But sometimes hearing other people's stories can help. In a new series entitled "Why English?" we are speaking with members of the OWU community and beyond about how they discovered what they wanted to do with their lives. For our first segment, we hear from Professor Butcher about how she found essay writing and what her journey has taught her.
"How did I find essay writing? Trial and error, mostly. When I first got to college, I really wanted to study psychology. I was really interested specifically in helping young people. I wanted to hear their problems and help them through whatever it was they were going through. This is still something I'm passionate about, and my writing has allowed me to further advocate for mental health awareness. But I took my first psychology class and, I mean, I almost failed that class. I was devastated by the idea that this thing I thought I was going to do I was, actually, very awful at.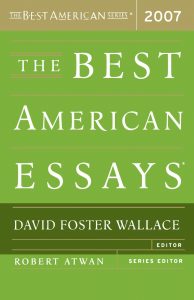 I think I connect with my students in the sense that I really didn't know that the genre of essay writing/creative nonfiction was actually an artful form. So it was only by exhausting myself in all of the creative writing classes at Gettysburg College that I finally found essay writing during the fall of my senior year. I took a personal essay writing class with a woman by the name of Katherine Rhett, who is a great essayist, and we looked at the Best American Essays edition for that year, which was edited by David Foster Wallace. It was one of the last projects he worked on before he took his life. His edition was just an amazingly artful assembly of essays—including Jo Ann Beard's "Werner," which remains one of my favorites—and I simply had no idea the genre could do what I saw done in that text. By that point, I knew I wanted to get an MFA, and it was the peak of the recession: 2008. So I ended up applying to fifteen MFA grad programs in all three literary genres. I had the least experience in essay writing, but I figured I would apply to all three genres and go wherever the best deal was. So imagine my surprise when I got into the program in nonfiction at the University of Iowa, and they offered me a stipend and TA position to teach a class. That was sort of a done deal.
In my UC160 classes, I discuss a writer by the name of Austin Kleon who draws a Venn diagram where one circle is "things you love" and the other circle is "things that love you back," and I talk about how you're lucky to find that space in the middle where the things you love are the things that love you back. That's what a liberal arts education is all about. And so psychology was just one example of something that was in that "I love them, but they do not love me back" portion of the diagram. I think the trick is just finding that place where your interests and your talents collide.
I never imagined I would be a teacher. Now I love it, though that, too, was a love that didn't come easily. At first, it was really stressful and I felt really anxious. I felt and worried I was doing a bad job. I still feel that way sometimes, but I think that's important: it makes you work harder, find new ways of tackling an idea or concept. I think sticking with something and giving yourself the patience to fail and get back up and try something else is the only way you will figure out your place in the world. There's no shortcut, really, around it, though I know so many of us wish there was."