Who are you and what did you do?
I'm Izzy Sommerdorf. I'm a Senior Zoology Major and English Minor, and I was awarded a Theory to Practice Grant from OWU that allowed me to volunteer in Thailand for two months. I worked in a wildlife rescue center called The Wildlife Friends Foundation and then also in an elephant sanctuary at the same location.
How did you get the idea for your Theory to Practice Grant?
Well, I live in the Citizens of the World house, and one of my housemates, Jill Scribner, gave a talk about her Theory to Practice Grant that I attended. She went to Africa, and it was just incredible hearing about it. So I thought, "Okay, I've got to take advantage of this opportunity as well. But what should I do?" I liked African animals, but I didn't want to do the same Theory to Practice Grant as my friend, so I thought, "My favorite animal is the binturong and they're native to East Asia, so let's look for a location there."
Wait a minute. What is a binturong?
They're called bearcats, as well. I like to call them "old grandpa raccoons."
Ah, I see. Okay, so you're looking for grandpa raccoon habitats, and then what?
After googling around for a while for a place I could volunteer, I found the Wildlife Friends Foundation in Thailand, and messaged with them for a while, asking what they had there, and what they do. And it sounded pretty interesting, so I applied to go.
What was it like when you first got there? Was there an adjustment period?
When I first arrived, I arrived in Bangkok, which is a very big and different city than any city I've ever been to. And I was there for two days to help myself adjust before I traveled on down to Phetchaburi where the foundation is. And that was just very shocking.
Shocking? What do you mean?
I mean, I'm from the suburbs, for one thing, so any city is shocking to me. But there's just so much hustle. At the same time, though, it's much chiller over there than when I go to Minneapolis, which is the closest city to me. Plus, they have wats, which are their temples, spaced throughout the entire city–which seem out of place, because they look like very historical buildings, and they're surrounded by all these modern structures. But they're also really beautiful. And there are these walls around the wats that just blur all the noise of the city as soon as you walk into them, which is wild because the city is pretty loud.
What was it like when you got to the rescue center?
They kind of just set you up. They give you your room key, and you just sit around and get to know the people who will be volunteering with you, as well as the volunteers who are already there when they're on break. Then you just get a tour, and the next day you're working and figuring it out.
So what was your routine like? Did you have an average day?
There wasn't really an average day, because we're split into teams, and each team cares for a different set of animals. So what happens is that you're assigned which team you'll be on every morning. Right away, you walk up to the whiteboard and it'll say what your team will be for that day. So the teams are usually "Gibbons 1" or "Gibbons 2," or "Bears 1" or "Bears 2," and so on.
And depending on how long you're there, you'll be a group leader. To become a group leader, you have to be on a team for two days in a row; after that, you're considered knowledgeable enough to be able to lead it. I was there for two months, so I became a group leader in all the groups at different points.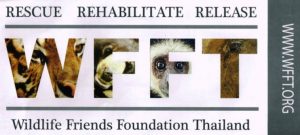 What were some of the things you did for the animals?
Well, first of all, we'd wake up in the morning, and right away we make meals–the first set of meals for the animals, and then the second set for ourselves–you make the animals' meals before you get breakfast. Then, later, usually during the animals' lunch, you'll either move them off to a different area or somehow distract them so that you can clean out their enclosures. We'd make enrichments–little crafts to help encourage natural behaviors in the animals, like they would have in the wild—or bathe them, depending on the animal. And then we'd also have a group project that changed daily. So that would be like, "Scrub the monkey pool," or "Scrub this other pool." There were so many pool scrubs.
Were all the animals rescues?
In the rescue center, they are. They're animals that have been rescued from the exotic pet trade. And depending on how old they are or what type of animal they are, some of them have the possibility of being released back into the wild. But some of them have become so used to humans that it either wouldn't be possible or they couldn't care for themselves if they were released. And then with the elephants specifically, they are from the trekking industry, which is when people go and ride them. And it's not good for them, because they can't take the heavy weight on their back, so it gives a lot of them arthritis and makes them unable to walk or lay down in their old age.
That's very sad. What would you say was the hardest part about being there?
Honestly, the hardest thing was my first week there. I got bed bugs. It turns out, I am allergic to bed bugs, so I had a very bad reaction. It was interesting, though. All of my bites became blisters. My feet swelled up because of the amount of toxins in my blood.
Oh, wow.
But it was interesting. It still was like, "Wow. I've never experienced anything like this before."
"I'm learning things about myself."
Yeah. I know to check all beds for bed bugs for the rest of my life now. But honestly, that was probably the hardest thing to deal with. Other than that, I felt like I was able to just slip right into the work.
What was the highlight of your time in Thailand, then? The coolest thing you got to experience?
I mean, wow, I don't know what wasn't amazing about it. Because all the animals were so interesting. And when you're there for that long, you really get to know their personalities and see them for who they are, and not just the gibbon that throws food at you. You learn their backstories. Some of them have reasons they don't trust people, and some of them have specific reasons they don't trust specific types of people. There was one gibbon that just hates men. If you speak in front of it and it realizes you're a man because of your deep voice, it'll dump its water on you.
Because of abuse?
Yeah, in many cases. But the gibbon who hated men hated them because it had a male owner that it had actually fallen in love with, and considered to be its mate. But then the owner passed away, and the man's wife didn't get along with the gibbon, because there was a competitive thing between them. So she got rid of it. The gibbon felt like it had just been abandoned. So now it just doesn't trust men.
But probably the greatest thing that happened was that on one of my free days, I got to go out to one of the national parks and see free wild elephants. And we saw some of the babies that were out there. And it was so cool, because we got really close, which was probably dangerous. But one of the babies was kind of messing with its mom, trying to eat food from out of her mouth instead of getting it itself. And it was just incredible. Especially because there's a baby at the foundation, and she was never part of the trekking industry because she's young enough, but her mom was. So it's just interesting to think, what if she'd been allowed to be wild? What if she hadn't been born into this awful industry?
What do you feel like you learned from this experience that you probably couldn't have learned otherwise?
Being a student here at OWU in Zoology, you try to cover all the bases, you do stuff in lab and so on. But you look at animals from a very "outer" perspective. But working with animals, learning their different ways of acting, and understanding them, it helped me realize that my passion is definitely in working hands-on with animals. I don't think I'm a person that would be happy long-term working in a lab with smaller organisms. So I learned that about myself.
There was also a more profound lesson, though. There was a woman, Pin, in charge of the rescue center, who would always write notes to everyone if she wasn't there in the morning. And the notes would always say, "Remember to do things with love." And it definitely made me realize that, if you're really going to care for each animal, and if you want to be happy doing it, that you can't just think of it as, "Now I'm making food, now I'm doing this chore." Think about the animal and how you're making its life better. Do it with love.
In closing, do you have any advice for students applying for TPG, or thinking about it?
I would definitely say, apply. Even if you don't think you'll get it this round, apply. Because the committee will let you know, if you didn't get it, why you didn't get it and what you could work on to make your application stronger. And then you could apply the next round. And now they have four different rounds that you can apply for, so there's more opportunities to get out there and do those things. And they're such incredible experiences.