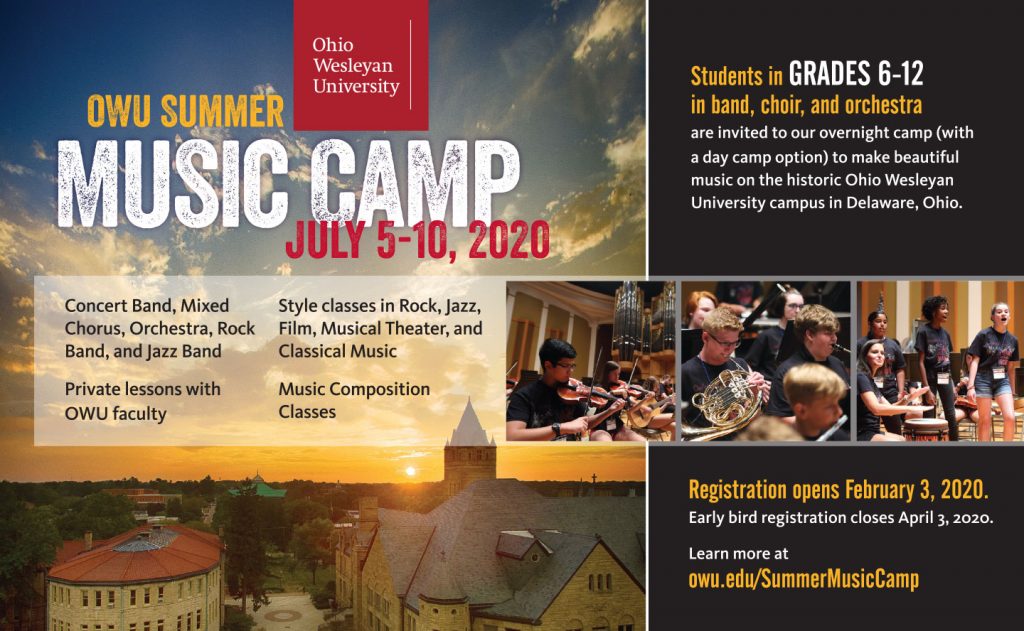 2020 OWU Summer Music Camp UPDATE:
Another exciting OWU Summer Music Camp is on the way for July 2020 with several new activities added to the schedule! We're updating the website right now with details about what's in store for next year. Please check back in early October 2019 for information about our 2020 camp.
---
NOTES from 2019:
The Grand Finale Concert will conclude an exciting week for the first OWU Summer Music Camp on Friday, July 12 at 3 p.m. in Gray Chapel of University Hall on the OWU campus. Hear each camp ensemble, plus a WORLD PREMIERE performance of Battle Hymn of the Republic written by OWU composition major, Noah Green, featuring all combined campers and staff!
If you can't make it on campus for this event, watch the action online in real time with the OWU Live Stream.
Ohio Wesleyan University is pleased to announce the OWU Summer Music Camp! All Middle School students in band, choir, and orchestra are invited to make beautiful music on the historic OWU campus in Delaware, Ohio.
Our 9 a.m. – 4 p.m. day camp (July 8-12, 2019) emphasizes performance skills with expert guidance from OWU music faculty, music teachers, and camp counselors who specialize in band, choir, or orchestra. The week concludes on Friday afternoon with a grand finale concert for friends and family in Gray Chapel.
Additional activities include sectionals with camp staff, style classes exploring a different style of music each day, optional private lessons, and daily rec time to balance out the total program.
(Only a parent or guardian may complete the camp application forms.)
Registration is still open! However, some ensembles may fill more quickly than others. Once an instrument or voice section has filled to capacity, all additional applications for this instrument or voice area will be placed on a waitlist in chronological order of the application time stamp.
Learn more about the Registration Process.