Novels
Under the Udala Trees
Under the Udala Trees is a stunning coming-of-age story of Ijeoma, an eleven year old girl from Nigeria in the 1960's. This text focuses on the broad themes of identity, religion, closet culture, prejudice, youth, gender roles, race, and forbidden love. Ijeoma and Amina, the two girls who fall in love, are from different ethnic communities. This raises a lot of suspicion and
anger from their families who dislike even their initial friendship. Ijeoma ponders her Christian morals and comes to a conclusion that there is nothing sinful about the love she feels for Amina, for she also loves Christ at the same time. When she confides to her mother about her findings, her mother reacts negatively and goes on to try to "purify" her from demonic influence. These moments bring up the question of religion and what Christianity truly says about homosexuality. As Ijeoma and Amina grow up, they each develop differently, with one conforming to traditional gender roles and suppressing her true self while the other goes on to secretly be part of the queer community. The secrecy and struggle of the queer community is tragic and clever all at once, and the characters in Under the Udala Trees are unique and lively despite the violent pursuit of hate constantly at their heels. The story is heartbreaking, powerful, and sure to keep readers excited to experience Ijeoma's story from beginning to end.
Trumpet
Trumpet is an incredible, fictional summary of the reactions to a famous trumpet player's death. Right after Joss Moody passed away, it was revealed that he was a transman. The only one who knew was his wife, Millie. His son, Colman, didn't know and when he found out, he was furious about it. The novel depicts the thoughts of all different people in Joss Moody's life, from his closest friends to strangers like the funeral director. They all have varying perspectives from slight shock and indifference to confusion and sometimes acceptance. Colman ends up collaborating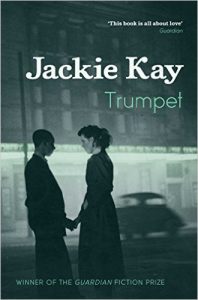 with an ignorant journalist named Sophie Stones in the midst of his anger. Readers get to experience the most annoying and obnoxious reactions to Joss's secret, but they also get to see people defend Joss and see him for his music and not his gender. The story raises questions about identity in general and not just of gender due to Joss's strong connection with music and his ability to express himself through his trumpet. However there are still major themes about gender roles from Colman's perspective as well as racial prejudice from the reactions to Joss and Millie's relationship. There are suspicions about Millie's sexuality, though not necessarily from Millie herself. Trumpet is a fascinating and thought-provoking read that makes readers think not only about identity as a broad concept but in direct relation to their personal selves.
The Buddha of Suburbia
The Buddha of Suburbia is a novel written by Hanif Kureishi, a Pakistani-British author and playwright who grew up in South London. Buddha won Kureishi the Whitbread Award for best first novel. The book follows the story of Karim Amir, a light-skinned boy of Indian and English descent who navigates life in the London suburbs. Although Kureishi has never confirmed nor denied the claim, it is widely thought that this novel is at least in part influenced by his own experiences growing up. The novel tackles serious, real-world issues such as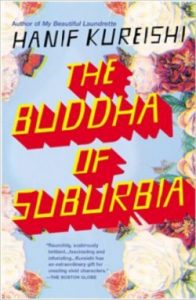 racism, sexuality, and nationalism with an interesting style of humor and satire. Karim's father, Haroon, becomes an exotic token in the suburb they are living in when he begins to act as a spiritual guide for his mistress, Eva, and her many affluent friends. Although Karim takes issue with his father's lack of self respect, he enjoys being brought along for the ride, as he has a severe distaste for the mundane suburban life people expect him to lead. Throughout the novel, Karim experiences fancy parties, finds his love for acting, and enjoys many sexual encounters all because of his lust for adventure. This, as well as the fact that he has a crush on Eva's son, prompts him to grow closer to the vivacious woman and see her as a mentor. Back at home, though, Karim feels pity for his mother, who is struggling to stay happy in a loveless marriage. Karim's friend Jamila is also struggling with her own battle against traditional values, and the two find comfort in their relationship. Even though Karim appears to be a rather selfish and blasé in the beginning, his experiences throughout the novel teach him a valuable lesson about his actions. The book has also been adapted into a BBC mini-series with a soundtrack by David Bowie.
The Song of Achilles
Profoundly moving and a breathtakingly original rendition of Homer's Iliad, The Song of Achilles by Madeline Miller is a rendering of the epic Trojan War. It is a dazzling feat of the imagination including a devastating love story and an almighty battle between gods and kings, peace and glory, immortal fame and the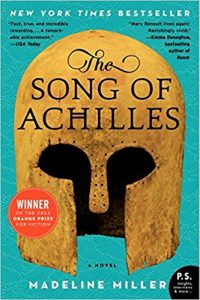 human heart. Greece in the age of Heroes. Patroclus, an awkward young prince, has been exiled to the kingdom of Phthia. Here he is nobody, just another unwanted boy living in the shadow of King Peleus and his golden son, Achilles. Achilles, "best of all the Greeks," is everything Patroclus is not—strong, beautiful, the child of a goddess—and by all rights their paths should never cross. Yet one day, Achilles takes the shamed prince under his wing and soon their tentative connection gives way to a steadfast friendship. As they grow into young men skilled in the arts of war and medicine, their bond blossoms into something far deeper. The book took Miller ten years to write. After discarding a completed manuscript five years into her writing, she started again from scratch, struggling to perfect the voice of her narrator. The Song of Achilles is the Winner of the 2012 Orange Prize for Fiction.
The Book of Salt
The Book of Salt is the first novel by Vietnamese-American author Monique Truong. It is based around the life of Binh, a gay Vietnamese cook working in the house of Gertrude Stein and Alice B Toklas. The two, whom Truong fictionalizes, were real-life authors that lived in Paris as a lesbian couple during the 1920's and 30's. The novel recounts Binh's life in a nonlinear fashion, j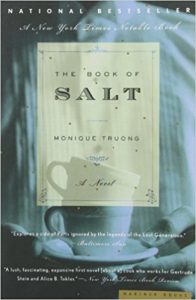 umping between events in both his past and present. Binh is born and lives out his childhood in Vietnam, a part of French Indochina. He becomes a kitchen worker for a wealthy colonial family. When he is more grown, he joins the galley of a large ship, making his way to France, where he eventually ends up in Paris with Stein and Toklas. Colonialism is a topic heavily explored in the novel, as Vietnam was a colony under French control. Binh has to navigate his life first as a kitchen assistant to colonial superiors, then as a chef in the house of his "mesdames," all while exploring love and sexuality. Ultimately, The Book of Salt is about a gay man trying to find his place in a world where he is a servant, a worker exploring powerful themes of race, identity, and love. The book is also written in beautiful, stream-of-conscious style prose. The Book of Salt won Truong an Asian American Literary Award and it was a finalist for the Lambda Literary Award.
Beauty Queens
Libba Bray's 2011 novel Beauty Queens is a sarcastic satire that tackles racism, sexism, the gender spectrum, capitalism, and more, in an irreverent yet heartwarming manner that might offend the easily offended. An airplane full of beauty pageant contestants is heading to the Miss Teen Dream pageant (hosted by the Corporation, the only – and we mean only – supplier of your every need!) Unfortunately, the plane crash-lands on a deserted (?) island. Only a handful of survivors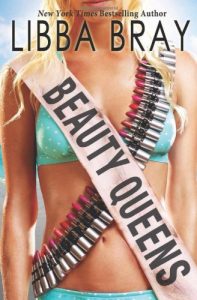 remain, and with no guarantee of rescue, they must use their pageant skills and raw ingenuity to stay alive and high-kicking. The contestants include Taylor, the confident and competent Miss Texas; Adina, the feminist who had planned to bring down the pageant from the inside; Jennifer, the out-and-proud comic-drawing lesbian; Sosie, the deaf dancer; Shanti, the competitive Indian-American with a secret; Nicole, the black pre-med student coming to terms with racial double standards; Mary Lou, the sweet farm girl with a repressed sexuality; Petra, the transgender Charles Dickens lover and ex-boy band star; and more. This book humorously and lovingly explores the power of young women through the richly developed ensemble cast. The British schoolboys in Lord of the Flies might have found their feral sides on their deserted island, but the teens in Beauty Queens come into their own and learn that girls don't have to apologize for existing as their unique, authentic selves.
Afterworlds
Afterworlds, written by Scott Westerfeld, is really more like two books in one. Darcy Patel's dream is to be an author, and now she's just signed a two-book contract with a professional publishing house. This means moving to New York to join the YA publishing scene, finding a place to live that's comfortable but on-budget, and navigating the woes of editing and writer's block. Finishing her novel Afterworlds and finding the perfect ending competes with book tours, house parties, and Darcy's first love – with fellow writer Imogen Gray, a woman with a past she'd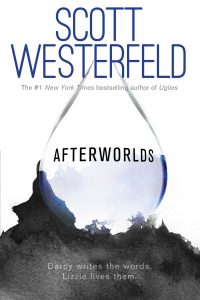 like to forget. In alternating chapters, the finished version of Darcy's novel tells the story of Lizzie, who survives a terrorist attack by willing herself into the afterworld. After the attack, Lizzie's life becomes dominated by the ghosts she can now see, including the spirit of her mother's murdered childhood friend. However, she also finds safety in a fellow psychopomp, or spirit guide, who must decide between loving her or protecting her. Ever wanted to know about how YA publishing works? Wanted a novel with a queer WOC lead? Wanted paranormal romance without it being the only dominating storyline? This book combines Darcy and Lizzie's narratives and allows the connections between them to shine, especially when Darcy talks about edits that the reader has already seen in earlier chapters of Lizzie's story. Plus, Westerfeld's intimate knowledge of the YA publishing world comes through as a sarcastic but sweet love letter.
Fun Home, A Family Tragicomic
Fun Home, A Family Tragicomic has become a staple of American queer literature, especially since the premiere and recognition of the recent musical adaptation. It is a graphic memoir written by lesbian cartoonist Alison Bechdel, detailing her complex relationship with her father Bruce and the discovery of her own sexuality. With a focus on the shared same-sex attraction she and her father both experienced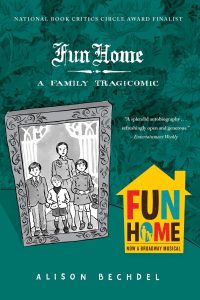 , Bechdel compares their lives and examines their interactions, including their opposing approaches to gender roles, their appreciation for literature, and Bruce's tyrannical control as head of the house. Fun Home also makes a statement about the fear of coming out and about handling one's own issues; while Bruce hid from his sexuality and kept his relations with other men secret, Alison chose to be open about herself and take the risk of revealing her sexuality. Bechdel takes a nonlinear approach to the narrative and jumps from her childhood to her life in college and her current life as a cartoonist and author. The detailed artwork took seven years to complete, and visual jokes and hidden references decorate the pages. Its title is taken from the nickname for the family business, the Bechdel funeral home. The book itself spent two weeks on the New York bestseller list, and the musical adaptation (also titled Fun Home) earned twelve Tony nominations and one win, for Best Musical.
The Pagoda
The Pagoda is a novel written by Patricia Powell, which details the life circumstance of Lowe, a Chinese individual living in Jamaica. Suffering from the pain of rejection and neglect from his father, young Lowe dressed as a man to make the journey. Upon discovering that Lowe was biologically female,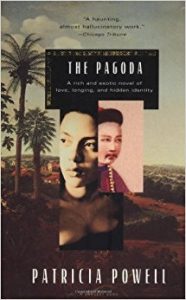 Cecil, the man in charge of the ship, subsequently raped and impregnated him. Upon arrival, Cecil set up Lowe's life as a man and gave him a shop to run, turning himself into Lowe's benefactor as well as abuser. As a Chinese immigrant, Lowe has a some very complex relationships with the other races living with him in Jamaica. In addition, he lives in constant fear of his biological gender being discovered. Many years after his arrival, Lowe's shop is burned down with Cecil inside, and for the first time in his life Lowe is free to discover who he is on his own terms, rather than filling a role for another person. He finds himself reevaluating many of the important relationships in his life, particularly his relationships with the wife that Cecil provided him and with his estranged daughter. While Lowe is building himself anew, he also dreams of building a pagoda in the place of his burned down shop, in order to celebrate Chinese culture on the island.
The Cage of Zeus
The Cage of Zeus is a novel written by Sayuri Ueda, and translated from Japanese by Takami Nieda. The novel is centered around a race of artificially engineered humans called rounds, which have been designed to have fully-functioning sex organs of both males and females. Even in a future that has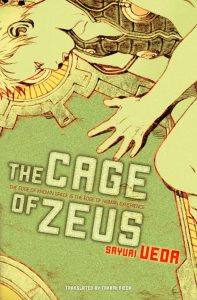 advanced far enough to accomplish such a feat, many still cling to old prejudices, As a result, the rounds are seen as much of the general population as freaks, and an example of science gone much too far.The rounds live on a space station mostly isolated from nearly all of the rest of humanity, save for the scientists and soldiers stationed there. Due to their extreme isolation the rounds have essentially formed their own culture separate from monaurals, the term used to describe non-rounds. Despite their isolation and the fact that the rounds are not allowed to leave and mix with the greater population, there are still terrorist factions who view them as a threatening abomination that must be destroyed. As they attempt to prevent one of these groups of terrorists from wiping out the entire race of rounds, the characters must push the boundaries of their acceptance and are forced to ponder what makes someone human. This novel provides a fascinating examination of issues of tolerance towards queer minority groups in the format of science fiction.
Millennium Series
The Millennium series consists of the novels The Girl With The Dragon Tattoo, The Girl Who Played With Fire, and the Girl Who Kicked the Hornet's Nest, written by Stieg Larsson and translated from Swedish by Reg Keeland. A fourth novel, The Girl in the Spider's Web, was written by David Lagercrantz due to Larsson's death. The books follow Lisbeth Salander, a queer punk woman and genius hacker that shies away from cultural norms. The first book introduces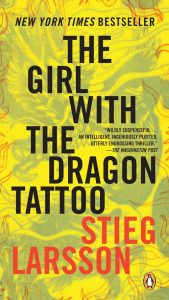 the reader to Lisbeth as she works with political journalist Mikael Blomkvist to solve a decades old disappearance and murder mystery. As the story unfolds the reader learns of Lisbeth experiences as a ward of the state after being declared legally incompetent, a situation that eventually leads to her being raped by her legal guardian. In later books Lisbeth's past and family history, particularly her relationship with her abusive sex trafficking father, comes to the forefront. The Millennium series examines themes of abuse, sexism, misogyny, discrimination, and societal and governmental oppression. But more importantly, it depicts an incredibly strong and brilliant woman fighting against those things and coming out on top, despite all odds being against her. The first three books in this thriller series have all been adapted into Swedish language movies, and a separate English language adaptation of The Girl With the Dragon Tattoo has been released as well.
Aelred's Sin
Aelred's Sin is a novel published by award-winning writer Lawrence Scott in 1988. Written in several different time frames, the novel begins in the 1980s with Robert de la Borde and follows him as he travels from the Caribbean to England after receiving news that his brother, Jean Marc,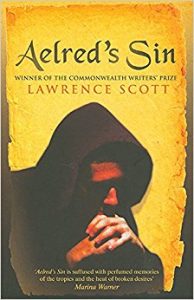 has passed away. Before passing, Jean left Robert journals with instructions to visit Ashton Park Monastery, which Jean entered in the 1960s under the name Brother Aelred– given to Jean after St. Aelred of Rievaulx, a 12th-century British monk who believed in the "spiritual friendship" comprised of chaste gay love in monastic life. As Robert visits the monastery, he discovers pieces of his brother's life, including his mental suffering and the conflict between his sexual impulses and his love of God. Following his findings, Robert must question his learned prejudices and muster up the will to sympathize and understand his late brother, embarking on his own journey of building compassion and acceptance. Aelred's Sin touches on the topics of monastic life, male sexuality, and the role of religion in one's life. Scott draws in readers by making them feel like they are invisibly in the place where the characters are, and by the end of the novel, readers are left with questions about how to balance sexual and spiritual love and how love can force a character to evolve. Scott appeals to readers through his authentic portrayal of one struggling to comprehend and accept a life that contradicts everything one has learned to condemn.
The Other Side of Paradise: A Memoir
The Other Side of Paradise is an organic and emotional memoir originally released in 2009 and is written by Jamaican performance artist Staceyann Chin. The paradise the title refers to is Montego Bay, Jamaica, where she spent most of her adolescence. The memoir traces Chin's life beginning with her mother's pregnancy with her. When she was born, her mother did not want her, and her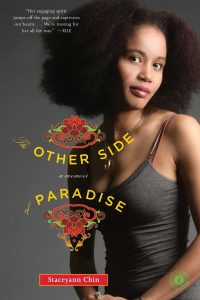 father refused to acknowledge his paternity to her so she was given to her relatives. Her grandmother was the only relative who nurtured and provided for her, but when her grandmother passed away, she was thrust into the arms of different family members who mistreated her. In every situation, she was somehow in the wrong, whether she wore what her relatives considered to be a "bathing suit,"though she was only wearing clothing they considered to be too suggestive, or whether she was sexually abused by her male cousins, who insisted Chin was the one who invited them to take her body. Staceyann Chin's memoir is highly praised for her authentic rawness in content and literary elegance. When readers read about Chin as a child, they feel as though they are with her in her childhood and they cringe at her words when they know she will get scolded, smacked, or rejected, though they know they go unheard. The Other Side of Paradise is carefully crafted, telling the heartbreaking story of Staceyann Chin and touches on topics such as displacement, being a lesbian, child and adult sexual abuse, and various injustices. The memoir is both difficult to read at times and yet difficult to put down.
Moving Forward Sideways Like A Crab
Moving Forward Sideways Like A Crab is a 2014 novel by Trinidadian author Shani Mootoo. Mootoo is known for her exploration of race, gender, sexuality, identity and trauma in all her works, and this novel strays not one bit from the topics her works focus on. In Moving Forward Sideways Like A Crab, Jonathan, the protagonist of the story, travels from Toronto to Trinidad to visit one of his parents, Sydney, who is on his deathbed. Years prior, Sydney underwent gender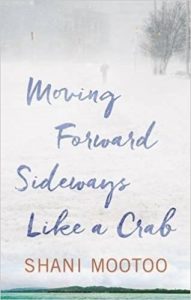 reassignment procedures to transition from Sid, the person Jonathan knew as his step-mother before his parents split. Jonathan has spent years trying to understand Sydney's choices. He is finally offered a chance to hear the story of Sydney's life, an opportunity to understand. Defined by the complex identities and transient spaces its characters occupy, the novel discusses fear and disconnect in dynamics of family, ethnicity, identity and the marginalizing powers of dominant society. True to Mootoo's love for nature, Moving Forward Sideways Like a Crab is populated with the breathtaking flora and fauna of Trinidad. The natural riches captivate Jonathan through Sydney's mesmerized ramblings about them and remind the reader of Mootoo's Cereus Blooms At Night in their ever-fascinating presence. Little by little, Jonathan sees the reasons behind Sydney's choices. With this latest novel, Mootoo gloriously continues her quest to tell queer stories coming from communities of color with complex histories of immigration and marginalization.
Mr. Loverman
Mr Loverman, published in 2013 by Bernardine Evaristo, is a genuine read for adult readers. The book has a well self-educated main character, Barrington Jedidiah Walker Esq, who is in his mid-seventies, while he has been married to his religious wife of fifty years, Carmel. Barrington and Carmel had two daughters, Donna and Maxine, who are all grown-up; Donna, who is a social worker and Maxine, who is a stylist.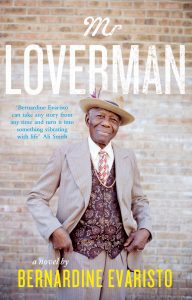 There have been a lot of ups and downs in Barrington and Carmel's marriage, the hardest being that Carmel is not the person Barrington loves. His true love is named Morris Courtney de la Roux. They met as children in Antigua, and kept their affair going on for many decades in London. The plot revolves around Barrington and Carmel's marital issues and his affair with Morris. Barry lies to Carmel about having a low sex drive, but it is not the case with Morris. After all these years, Barrington's late  with the zest for life finally he seems to question whether he should open up or not and ask for a divorce. With Barrington going through a bunch of reflections while deciding, the book starts recollecting his predicament by meshing the past and the issues about race, immigration, gender, generational divides, sexuality, religion, and social progress. It is about Barrington trying to find the courage to come out with on-going fear and shame. This book is funny, yet serious. It revolves around the seriousness about coming out, but has those great funny moments to relieve from the tension.
Monoceros
Monoceros, published in 2011 by Suzette Mayr, is a fantastic read for young adults. Mayr tells the story that can come to life. It is set in Calgary, Alberta in Canada with a seventeen year old, Patrick Furey, a gay teenager who was bullied by his peers, ignored by his parents and teachers, and was rejected by the boy he loves. The plot is based on today's era where people can still be unaccepting about a sexual preference.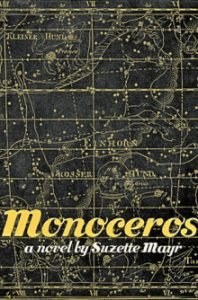 The story of Patrick's suicide is told through the perspectives of multiple different characters that did not know him very well which makes this book have tragedy for not knowing Patrick, but has the comic relief when having the variety of characters talk. It was very striking to approach the topic with people who barely knew him, but it makes the point that suicide affects a larger circle of people than immediate family and friends. This book is well written and brings the subject of suicide to the reader's mind in a way that some may not have ever thought about. She portrays it amazingly in the sense of how suicide can change the whole world and make people finally become more accepting of people and their sexual preferences and identities. This novel brings attention to the theme of the gay acceptance of parents as well as peers and other figures in life, but it is a struggle that many go through and it has affected many families, friends and peers alike.
Plays
Angels in America: Millennium Approaches
Angels in America: Millennium Approaches is the first half in a duo of conjoined plays written by Tony-awarded American playwright, Tony Kushner. The play itself was written in the time directly following the end of the AIDS epidemic. By the end of 1993 (the play in which this premiered), there was an estimated count of 2.5 million AIDS cases globally. Angels in America focuses on the lives of two couples and their various issues. The first couple consists of Joe Pitt (a gay Mormon lawyer) and his Valium-
addicted wife, Harper. Roy Cohn, a lawyer and powerbroker, offers Joe a chance to work for the Justice department in Washington. Excited by the prospect of joining the conservative revolution, Joe must convince Harper to move in order for him to accept the job offer. Amidst the marital strife, Joe's own homosexuality is brought forth by his wife's suspicions. The second couple consists of a low-level "word processor," Louis Ironson, and his boyfriend Prior Walter. Their discourse revolves around Prior's diagnosis of AIDS and Louis' inability to cope with a dying partner. From Valium-induced hallucinations via Harper to stress/sickness induced dreams via Prior, national themes of  identity, isolation, and community are presented through imaginary friends and the actual presence angels. Angels in America: Millennium Approaches is a powerful commentary on the state of America during a conservative revolution and an AIDS epidemic.
Angels in America: Perestroika
Angels in America: Perestroika  is the latter half in a duo of conjoined plays written by Tony-awarded American playwright, Tony Kushner. This half was released a full year after Millennium Approaches, thus warranting the distinction between the two stories. Perestroika follows similar themes of identity, community, and isolation with a significantly different style than its twin play.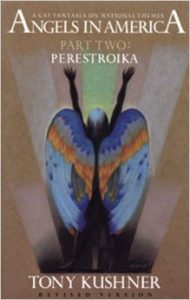 Where Millennium Approaches features downward spirals for all involved, Perestroika provides a light at the end of the tunnel. The story picks up right where Millennium Approaches ends and continues to follow the increasingly intertwining stories of the two couples and Roy Cohn. Near the end of the former play, the element of the supernatural is fully introduced through heavenly means. Moving forward, the effects of AIDS (and its implications) become more prevalent through specific characters' fates. Additionally, heavenly and supernatural influences play a very large role in progressing the storylines of the main characters. Such influences provide major commentary on the state of the world for not only 1980s America, but the future of earth itself. The end of this play features a call to action message in lieu of the gay tragedy that's omnipotent in queer media. Overall, Angels in America: Perestroika is a striking commentary of the past, present, and future of the queer community.
Love! Valour! Compassion!
Love! Valour! Compassion! Is a play written by American playwright, librettist, and screenwriter Terrence McNally. It first premiered Off-Broadway at the Manhattan Theatre Club in October of 1994 and ran for 72 performances. It moved to Broadway in 1995. It won both the 1995 Tony Award for Best Play and the 1995 Drama Desk Award for Outstanding Play. The play is set in a vacation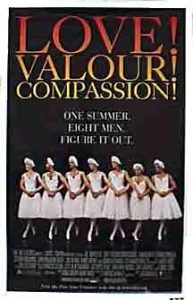 home in Dutchess County, near New York City. It follows the events of one summer over three major holidays: Memorial Day, the Fourth of July, and Labor Day. The house is owned by Gregory, a now-middle-aged Broadway choreographer afraid of losing his creativity. George is in a relationship with Bobby, a blind legal assistant. The other six, people staying with them, also gay, also men, are all connected to Gregory through his work. Couple Arthur and Perry are business consultants. John Jekyll is a dance accompanist from England. Buzz Hauser is a musical theater fanatic and costume designer. John's recent lover, Ramon, and John's twin, James, are new to the group. At the opening, on the first night, Ramon seduces Bobby. Buzz has been diagnosed with AIDS. Infidelity and the AIDS crisis are heavily featured in this comedy. But it tells a fantastic story of life as a gay man during a terrifying part of history.
Poetry
Love, Death, and the Changing of the Seasons
Love, Death, and the Changing of the Seasons is a novel-length collection of poems by American poet, Marilyn Hacker. Using both English and French colloquialisms and euphemisms along side various writing techniques, this critically acclaimed sonnet collection is a passionately intense story describing the love affair between two women: one older and one much younger. Hacker
herself has never admitted to the work being autobiographical, but the use of her daughter's name and role imply that she, at the very least, partially drew from her directly personal experiences. Through the Petrarchan and Shakespearean sonnets along with the occasional villanelles, Hacker paints a mental portrait of the painful and euphoric cycle of a relationship. The story begins as any love story generally does: with descriptions of the pairs first few meetings. From then on, Hacker refuses to bit her tongue in terms of hiding the narrator's true feelings, however lurid. As Hacker describes the evolution of the pair's relationship, it could be said that they sound more like "morning after's" in that they are written in a manner that exudes pure feeling rather than well-written prose. From their casual (yet somehow electric) first meetings to their bittersweet, head-strong end, the novel remains true to its uncouth and raw nature to retain its overwhelming authenticity.