Jackie Kay
Jackie Kay is an openly lesbian Scottish poet and novelist. She was born in Edinburgh, Scotland in 1961 to a Scottish mother and a Nigerian father and was adopted as a baby by a white Scottish couple. She studied English at the U
niversity of Stirling and her first book of poetry, the partially autobiographical The Adoption Papers, was published in 1991 and won the Saltire Society Scottish First Book Award. This is a multiply voiced collection of poetry that deals with identity, race, nationality, gender, and sexuality from the perspectives of three women: an adopted biracial child, her adoptive mother, and her biological mother. Her other awards include the 1994 Somerset Maugham Award for Other Lovers, and the Guardian Fiction Prize for Trumpet, inspired by the life of American jazz musician Billy Tipton, who transitioned to being a man for the last fifty years of his life. She is currently Professor of Creative Writing at Newcastle University, and Cultural Fellow at Glasgow Caledonian University. Kay lives in Manchester. She is the third modern Makar (Scottish poet) and the Scottish poet laureate, which is a position officially appointed by the government to compose poems for special events and occasions. So far, she has won 13 awards for her poetry and novels.
Marilyn Hacker
Marilyn Hacker is a critically-acclaimed, openly lesbian poet, translator, and critic. Hacker was born in 1942 to business consultant Albert Abraham Hacker and teacher Hilda Rosengarten Hacker, both of whom are Jewish immigrants. She spent her childhood in the Bronx, later graduating from the Bronx School of Science (where she would meet her future husband). At the age of fifteen, she enrolled at New York University to further her education. In 1961, she married science-fiction novelist Samuel R. Delany. From 1969 to 1971, they co-edited
Quark: A Quarterly of Speculative Fiction. This was the first of many editorial positions she would hold throughout her career. In 1974, she and her husband separated; both Hacker and Delany would later publicly identify as gay. Some of Hacker's most distinguished works consist of Presentation Piece (1974), Love, Death, and the Changing of the Seasons (1986), and Going Back to the River (1990). Her works often include ideas of love, loss, and the overall experiences she faces in the oppression of her sexuality and religion. Nevertheless, Hacker has won numerous awards for her literary work including the National Book Award for Poetry and the PEN Voelcker Award. Most recently, Hacker was inducted into the New York Writer Hall of Fame in 2013. Marilyn Hacker currently lives between Paris and in Manhattan with her life partner of ten years, Karyn London.
Hanif Kureishi
Hanif Kureishi is British novelist, playwright, and filmmaker of English and Pakistani descent. He was born in Bromley, South London, in 1954 to a Pakistani father and an English mother. He studied philosophy at both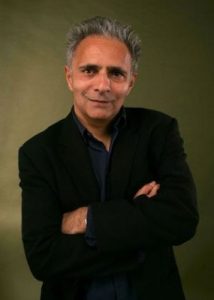 Lancaster University and King's College London. He began his career by writing ponography under the pseudonyms Antonia French and Karim. The latter of these names would go on to become the name of the main character in Kureishi's first and semi-autobiographical novel, The Buddha of Suburbia. He wrote his first big screenplay, My Beautiful Laundrette, in 1985. It was a story about a gay British-Pakistani boy growing up in London in the 1980s, and it received an Academy Award nomination for best screenplay. Kureishi has written various screenplays and novels dealing with themes of racism, nationalism, sexuality, and immigration. In his personal life, he is married to Monique Proudlove and has three children. Although he has never publicly admitted his bisexuality, those close to him can attest to the fact that his many stories about young gay and bisexual men in London come partly from his own experiences. Some of his other works include novels like Intimacy and Something to Tell You and plays such as Sammie and Rosie Get Laid and Venus. Kureishi was also appointed Commander of the Order of the British Empire in the 2008 New Year Honours, a British order of chivalry rewarding contributions to the arts and sciences, as well as work with charitable and welfare organizations.
Tony Kushner
Tony Kushner is an openly gay and highly acclaimed American playwright. Kushner was born in New York City, but he was raised in the deep-south of Lake Charles, Louisiana. As the child of William, a Juilliard-trained clarinetist, and Sylvia Kushner, a bassoonist, his creativity was cultivated from a young age. Beginning in 1974, Kushner enrolled at Columbia University, eventually graduating with a B.A. in English literature in 1978. In the time directly following
his graduation, Kushner would go on to write La Fin de la Baleine: An Opera for the Apocalypse (1983), A Bright Room Called Day (1985), Yes, Yes, No, No (1985), and Stella (1987). His most notable play, however, would not premiere until 1990. Angels in America: A Gay Fantasia on National Themes is comprised of a set of plays: Millennium Approaches and Perestroika. While these two plays are able to be performed independently, both have the overarching themes surrounding the AIDS epidemic of the 1980s and 90s and the subsequent national feeling of loss and community. His later plays include Slavs! (1994); A Dybbuk; or, Between Two Worlds (1995), The Mirror of Slavery (1998) Homebody/Kabul (1999), which surround mostly around Eastern conflicts and Western influences. Most recently, The Intelligent Homosexual's Guide to Capitalism and Socialism with a Key to the Scriptures opened on May 15, 2009. Throughout his career, Kushner has won a copious amount of awards. Most notably, Kushner has received two Tony's for his duo of plays featured in Angels in America.
Monique Truong
Monique Truong was born in 1968 in Saigon.  In 1975 she came to America as a refugee.  Since then she has written two books the first in 2003 entitled The Book of Salt detailing the story of a Vietnamese cook, Binh, and his interactions
with his madames Gertrude Stein and Alice B. Toklas.  For this work, she was awarded the New York Public Library Young Lions Fiction Award, the Bard Fiction Prize, and the PEN/Robert W. Bingham Prize. Her second book, Bitter in the Mouth, describes the story of the coming of age of Linda Hammerick in Boiling Springs, North Carolina in the 1970's.  She received the American Academy of Art' and Letters' Rosenthal Family Foundation Award, was named in Barnes and Noble 25 Best Fiction Books, was in the Hudson Booksellers' Top 10 Fiction Books and the Asian Pacific American Librarians Association's adult fiction Honor Book.  Her literary involvement also includes serving as a contributing co-editor of Watermark: An Anthology of Vietnamese American Prose and Poetry.  Truong has also been distinguished as a Guggenheim Fellow, Princeton University's Hodder Fellow and was the Sidney Harman writer-in-residence at Baruch College.  She has no plans of stopping her literary career and is currently writing a third book The Sweetest Fruits which will soon be published by Viking Books.  
Chinelo Okparanta
Chinelo Okparanta is a Nigerian-born writer who moved to America at the age of 10.  She received her BS from Pennsylvania State University and her MA from Rutgers University.  She has published short stories in various publications including The Coffin Factory, Subtropics, Conjunctions, TriQuarterly, The Southern Review, The Kenyon Review, Tin House, The New Yorker, and Granta.  Her first series of short stories, Happiness, Like Water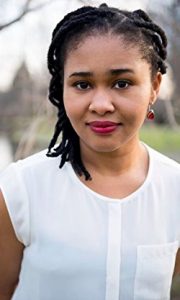 was longlisted for the 2013 Frank O'Connor International Short Story Award and won the Lambda Literary Award for Lesbian Award in 2014.  She received another literary award from Lambda in 2016.  She has also received an O'Henry prize and a 2016 Jessie Redmon Fauset Book Award in Fiction. She currently serves as the Assistant Professor of English and Creative Writing at Bucknell University where she also serves as the C. Graydon and Mary E. Rogers Faculty Research Fellow.  She has also been offered visiting professorships at Columbia University, Purdue University, Middlebury College, Howard University and City College of New York.  She also received fellowships at the Jentel Foundation, the Hermitage Foundation, the Civitella Ranieri Foundation, as well as Hedgebrook. Her first and only novel, thus far, Under the Udala Trees, received acclaim as a New York Times Book Review Editor's Choice, as one NPR's Best Books of 2015, and as on the best of list of The Wall Street Journal,The Millions, Bustle, Publishers' Lunch and Shelf Awareness.   
Carol Ann Duffy
Carol Ann Duffy is a Scottish playwright and poet. She was born in Glasgow, Scotland on 23 December 1955. She was a very enthusiastic reader was very interested in writing from a very young age and produced poems starting at age 11. She received her honors degree in philosophy from the University of Liverpool in 1977. By this time, she had three published volumes of poetry. In 1983 she won the National Poetry Competition. From 1988 to 1989 she was a poetry critic for British newspaper, The Guardian, and was the editor of Ambit, a
poetry magazine. In 1996 she became a poetry lecturer Manchester Metropolitan University and would become the creative director for its Writing School. She is currently a professor of contemporary poetry there. Throughout the 1990's and 2000's, she was in a relationship with fellow author Jackie Kay, which lasted for 15 years. She was appointed to the position of Poet Laureate of the United Kingdom in 2009, which is a ten-year position. She is simultaneously the first woman, the first Scot, and the first openly LGBT+ person in the 400-year history of the position. Her poetry is characterized by its long narrative form, simple, accessible language and surrealistic imagery. They often take on subjects and themes related to myths fairy tales. Her poems are often studied and read in schools in Britain. Some of her major works include Standing Female Nude (1985), which won a Scottish Arts Council Award, Selling Manhattan (1987), which won a Somerset Maugham Award, Mean Time (1993), which won the Whitbread Poetry Award, The World's Wife (1999), Feminine Gospels (2002), Rapture (2005), which won the T.S. Eliot Prize, and The Bees (2011). She has also written a few collections of children's poetry, notably Meeting Midnight (1999), The Hat (2007), and the anthology 101 Poems for Children: a Laureate's choice (2013). She has also edited a few collections of poetry, such as To The Moon: an anthology of lunar poetry (2009), and 1914: poetry remembers (2013). Her plays include Grimm Tales (1996), and My Country: A Work In Progress (2017).
Alison Bechdel
Alison Bechdel is an American cartoonist, best known for her long running comic series, Dykes To Watch Out For; her visual novel Fun Home, which was adapted into a Tony-winning musical in 2013; and th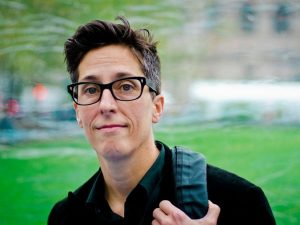 e Bechdel Test. She was born in 1960 in Lock Haven, Pennsylvania, to Bruce and Helen Bechdel, both of whom would appear in her memoirs later. She attended Oberlin College, where she came out as a lesbian at age 19, and graduated in 1961 with a degree in studio arts and art history. Her Dykes To Watch Out For strip was first serialized in the June 1968 issue of WomaNews, a feminist newspaper, and developed into a running storyline over time; Bechdel wrote it in addition to working in the publishing industry. In 1990 she became a cartoonist full time. Fun Home, which focused on Bechdel's relationship with her father, was released in 2006 and received multiple award nominations. It was followed in 2008 but Are You My Mother? which shifted focus to Bechdel's relationship with her mother. Bechdel's work is heavily defined by her sexuality and gender non-conformity. She currently lives in Bolton, Vermont with her partner, Holly Rae Taylor. The two were married in July 2015.
Patricia Powell
Patricia Powell was born in 1966 in Jamaica, grew up in England, and moved to the United States in 1982 with her family. Living in the U.S., she earned a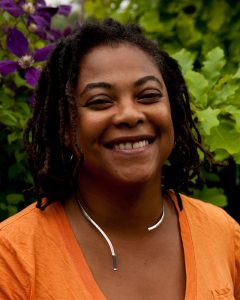 bachelor's degree and an MFA in creative writing. She discovered her love for writing while she was in college, and it helped her feel at home after having just moved to a new country and was coping with feelings of displacement. In 1991 she began teaching English at the University of Massachusetts Boston. She has been a lecturer at Harvard and Yale and has been teaching at Mills College since 2009. Along with The Pagoda, she has written several other novels such as A Small Gathering of Bones and Me Dying Trial. She has won a number of awards for her work, including the Lila-Wallace Readers Digest Writers Award. Powell's writing often explores themes of gender, sexuality, and race. According to her, she writes because she has many questions about the world "with no answers in sight." For her, writing is a way to explore the many injustices that people around the world suffer from because of differences like race, sexuality, and so on. She draws on her experiences as a person of color and as an immigrant when she writes.
Shani Mootoo
Shani Mootoo (born 1957) is a writer, artist and video maker who was born in Dublin, Ireland and grew up in Trinidad with her Trinidadian parents of Indian descent. She has been living in Canada since she was 19 and currently teaches in the Creative Writing Program at University of Toronto. Mootoo began her career as a painter. She focused on visual art first because her parents disapproved of her queer-themed poems. Later, she resumed her writing, but continued to explore the visual arts too.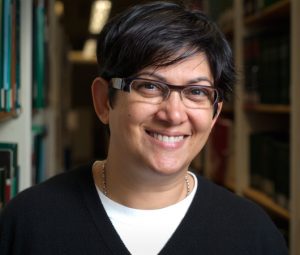 To date, she has written a number of novels, poems, and dozens of fiction and nonfiction anthologies. One of her most famous works is Cereus Blooms at Night, and her most recent novel is titled Moving Forward Sideways Like A Crab. Mootoo has been nominated for awards like the Giller Prize and the Lambda Literary Award, an annual award for outstanding LGBTQ+ books. Defined in part by her upbringing and personal experiences, Mootoo's works deal with topics of gender, sexuality, trauma, sexual abuse, race, ethnicity and activism. Many of her works explore the Trinidadian culture or what it means to be a Caribbean immigrant in the Western world. She has discussed the importance of food in her works as informed by food's role in Trinidad. Notably, many of Mootoo's novels feature characters who blur or cross the lines of gender. Mootoo is an outspoken activist for child abuse survivors. She has also produced a number of short videos and her art has been exhibited at galleries around the world, including the New York City Museum of Modern Art.

Thomas Glave
Thomas Glave is a very wonderful author, born on November 10, 1964 in The Bronx, New York. He was raised by Jamaican parents in The Bronx and in Jamaica. He earned a Bachelor of the Arts degree from Bowdoin College in 1993 then later earned a Master of Fine Arts degree in Creative Writing from Brown University in 1998. He later ended up with a job as a English professor at Binghamton University, in Binghamton, New York where he teaches about creative writing and courses on the Caribbean, African-American, black British, postcolonial, and LGBTQ literatures, among other topics as well.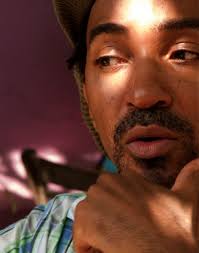 Thomas Glave won a O. Henry Award in 1997 while he was a graduate student, only the second gay, African-American writer, after James Baldwin, to have won an O. Henry Award. Later, he won a Lambda Literary Award  in 2006 for  Whose Song? And Other Stories and Our Caribbean: A Gathering of Lesbian and Gay Writing from the Antilles in 2009. Thomas has had a lot of Prizes and Awards throughout his writing career. He has written 4 books since 2000's till present: Whose Song? And Other Stories (2000), Words to Our now: Imagination and Dissent (2005), The Torturer's Wife (2008), Our Caribbean: A Gathering of Lesbian and Gay Writing from the Antilles (2008), and Among the Bloodpeople: Politics and Flesh (2013). Glave has served as the Martin Luther King, Jr. Visiting Professor at MIT, a Visiting Fellow at Clare Hall, University of Cambridge, and in 2014 will be the Leverhulme Visiting Professor at the Yesu Persaud Centre for Caribbean Studies and the University of Warwick.