Sand Dollars
Dolares de Arena (Sand Dollars) is a 2014 film from the Dominican Republic directed by Laura Amelia Guzmán and Israel Cárdenas. Guzmán and Cárdenas are a married director duo who have made two other films exploring the realm of sex tourism in Kenya and in Haiti. In Sand Dollars, Geraldine Chaplin stars as Anne, an older, lonely white French woman who is deeply in love with No
eli, played by Yanet Mojica, a young, beautiful Dominican escort whose services Anne has been paying for in the last three years. Noeli has a boyfriend and plans to use Anne to get a French visa and look for her mother in Barcelona, but is also at least somewhat emotionally attached to Anne. The women's intimacy is fraught with difficult age, ethnicity and power dynamics. Noeli is guarded, says little and struggles to choose a path that is best for herself, and Anne exudes desperation and an endless need to care and be cared for, to love and be loved in return. Sand Dollars is defined by its quietness, which holds immense power in conveying the emotions of its characters. It is set against the backdrop of a paradise-like Dominican Republic, the Caribbean through the eyes of tourists, but viewers glimpse the reality many locals face through Noeli's story. The narrative does not shy away from exploring the contrast between Anne and Noeli's bodies, as underlined by age and race, and perhaps highlights white people's centuries-long fetishization of brown and black people's bodies. Sand Dollars will leave viewers with mixed emotions about what unfolds between the two women and the choices they make, and endless appreciation for Chaplin and Mojica's acting.
Paris is Burning
Paris is Burning is an award-winning documentary directed by Jennie Livingston that depicts the underground drag scene of 1980s Harlem. It follows the stories of several entertainers as they navigate life as gender-nonconforming, queer individuals in New York City. Paris is Burning also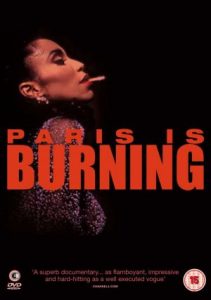 takes on themes of discrimination and community, and features a beautiful rendition of the American dream; where opportunity and success are available to anyone. This documentary, released in 1990, fully encompasses the culture surrounding the drag balls of the time, as well as the daily trials and tribulations of urban life. Much of the slang and many of the references used in popular culture today, especially in the gay community, stem from the vernacular that is displayed in this fabulous piece, including words like "shade" and "reading," and the iconic dance trend known as "voguing." The way that this film shines a light on this particular community, just before AIDS and gentrification would turn it on its head, is both fascinating and depressing. However, it also teaches young queer people of today to be proud of their culture, and to support one another. All of this makes Paris is Burning easy to fall in love with and relate to, even to a first-time viewer.
To Wong Foo
Patrick Swayze, Wesley Snipes, and John Leguizamo play three drag queens making a cross-country journey in the hit movie To Wong Foo, Thanks for Everything! Julie Newmar (1995). The trio starts the journey after Vida Boheme and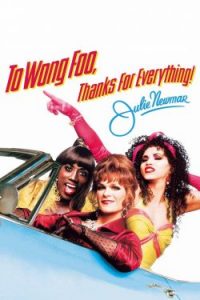 Noxeema Jackson, played by Swayze and Snipes, respectively, get a chance to compete for a crown in Hollywood. They take the young Chi-Chi under their wing, in hopes of teaching her the ways to become a fully realized queen. Their trek across America seems to be going better than expected, until the group takes a wrong turn in the middle of the flat lands. After experiencing some car troubles, the queens find themselves trapped in the last place they'd expect. Over their short stay in this near-abandoned town, they get to know the people living there and realize that they have a lot in common. To Wong Foo (as the film is often shortened to), puts a comedic and heartwarming twist on the otherwise serious, and possibly even dangerous consequences that can result from hiding a secret like this in such a small town. It also challenges the trope we see in popular culture, where large urban cities are centers for queer progress, while rural and suburban areas are typecast as closed-minded. By the time their car is fixed, the trio makes lifelong friends, combats sexism, racism and homophobia, and inspires an entire community. It is the perfect movie for anyone who just wants to laugh and feel good.
Rent
Rent is a 2005 film based on the Broadway musical of the same name (which is in turn based  on Giacomo Puccini's La Boheme). Rent tells the story of one year in the life of friends living the Bohemian life in East Village, New York City near the end of the 80s. The gaggle of main characters consists of queer, HIV-positive people of various races, backgrounds, and identities. The story begins on the
Christmas Eve of 1989 with aspiring filmmaker Mark Cohen and his roommate, Roger Davis, learning that the rent previously waived by their old friend and landlord, Benny Coffin, is now due. Benny offers free rent in exchange of them persuading Maureen (Mark's ex-girlfriend who left him for another woman) to cancel her protest against his plans. Meanwhile, Tom Collins, their mutual friend and philosophy professor, has fallen for Angel, a drag queen who is slowly dying of AIDS. In the midst of all of this, Roger is later visited and seduced by his downstairs neighbor, Mimi, who just so happens to be an exotic dancer and heroin addict. This insane amalgamation of lives and relationships (or lack thereof) only deepens as the story progresses through the following year. Rent is an enthralling tale of love, life, and the bohemian experience of being poor and queer in 1989 New York.
Cloudburst
Cloudburst (2011) is a movie where two elderly lesbian lovers, Stella and Dotty, from Maine go on an adventure to get married in Canada. They undertake such an adventure after escaping from a senior living facility that Dotty was committed to by her granddaughter Molly as part of a plan to take control of the old family homestead. On their trip to Canada, the couple encounters a young male hitchhiker named Prentice. Prentice is heading to Nova Scotia as well in an attempt to see his mother before she dies.  The couple agrees to take him on as a passenger on
their journey to Canada. Upon entering Canada, they continue their journey with multiple stops such as visiting Prentice's parents, the local courthouse and the pub, and finally the coast. While this film at first may be thought of as a typical love story full of wonderful characters it should be classified as an adventure. It should be this because so many characters are encountered who each have their goals and is not solely about the main couple and their struggles, although that is part of the story. The second reason this should be an adventure is that a love story is merely a type of adventure. Any good love story must have the lovers overcome obstacles that are set in front of them, that happens in this story. But since this story encapsulates other people and their overcoming of obstacles, it is best that this story is classified primarily as an adventure for both the heart and the soul.   
Pride
Pride (2014) is based on a true story: it's 1984, and the National Union of Mineworkers is striking to protest Margaret Thatcher's attack on trade unions. A London-based group of gay rights activists, led by Mark Ashton, decides to raise money to support the families of the striking workers. When the Union rejects their support, Lesbians and Gays Support the Miners (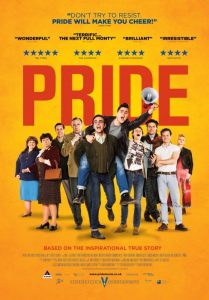 LGSM) picks up a map and randomly chooses the Welsh village of Onllwyn as a place to send their donations. The townsfolk are wary of the newcomers at first. However, despite difficulties and a smear campaign led by one of Onllwyn's leading support group members, the two communities grow closer and ultimately discover the power of standing together. This film covers many difficult topics well known to the queer community, including discrimination, coming out, splits within the queer community, and the struggle with HIV/AIDS. It also manages to find a balance between specifically queer issues, the problems facing striking workers, and universal issues of love and acceptance. Moments of humor are juxtaposed with moments of powerful drama and heart, and the film also goes out of its way to subvert a huge number of stereotypes (including the classic romantic heterosexual kiss scene). Pride was nominated for a Golden Globe and three BAFTAs. It also won the Queer Palm award at the 2014 Cannes Film Festival, where it premiered.
The Handmaiden
The Handmaiden is a Korean psychological thriller directed by Park Chan-wook. The film was inspired by the novel Fingersmith by Sarah Waters, with the setting changed from Victorian England to Japan occupied Korea in the early-to-mid 1900s. T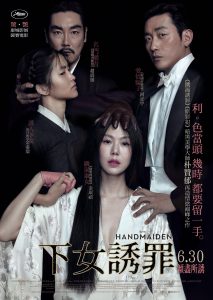 he story begins when a Korean woman named Sook-hee goes to live with and work with the Japanese Lady Izumi Hideko. Initially, Sook-hee's purpose is to assist a conman going under the name of Count Fujiwara, who plans to marry Lady Hideko in order to get her money for himself and then lock her up in an insane asylum. To Lady Hideko, the marriage to Fujiwara is a way to get out from under the control of her perverse uncle, who also plans to marry her for her money. However, Sook-hee's plans change as she falls in love with Lady Hideko herself, a mysterious and beautiful woman with many surprising depths. Together the two women must try to overcome the men that seek to control them, and meanwhile the audience is in for a wild ride as they discover that in this story, almost everything is not what it seems. This film was a part of the 2016-2017 OWU International Queer Film Festival.