High School Honor Band & Band Director Boot Camp Payment Portal
Payment by Check?
Please follow these instructions.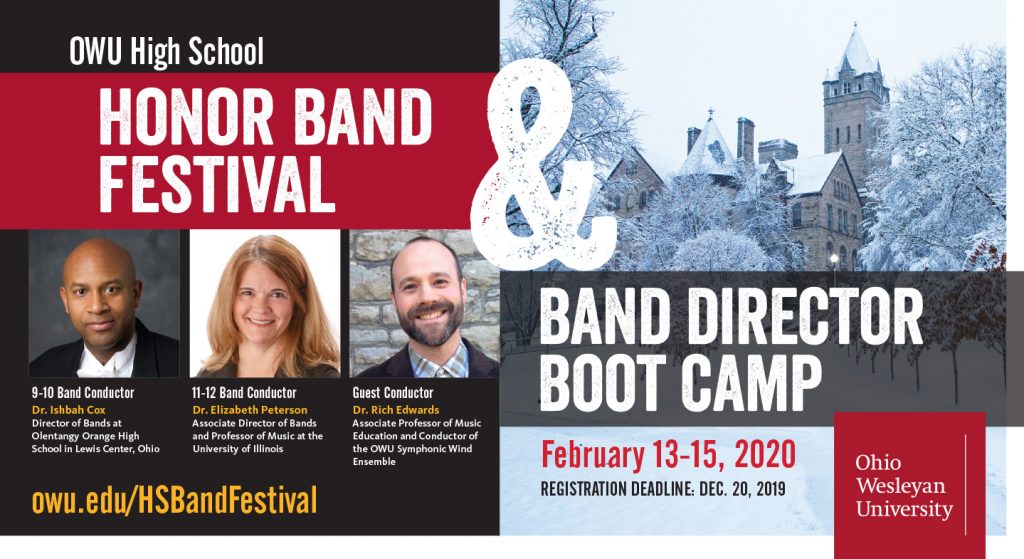 The Ohio Wesleyan University Music Department is pleased to announce the OWU High School Honor Band Festival & Band Director Boot Camp. Talented students and directors are invited to join college conductors, clinicians, and fellow musicians for an enriching itinerary of rehearsals, master classes, clinics, and concerts.
Honor Bands Description
Membership in both honor bands is competitive and similar to fine All-State bands.
All festival activities include an ice cream reception on Thursday evening, lunch and dinner on Friday, and a commemorative t-shirt.
Student festival activities include:
Rehearsals with featured conductors Elizabeth Peterson or Ishbah Cox, and guest conductor Rich Edwards
Host Concert on Thursday (7:30 PM, 2/13/20) with the OWU Symphonic Wind Ensemble and Hayes HS Wind Ensemble
Ice cream reception after the host concert
Instrumental masterclasses with applied music faculty
Two meals provided (Friday lunch and dinner)
Perform in the festival finale concert in Gray Chapel on Saturday (2:00 PM, 2/15/20)
Commemorative Band Festival T-shirt
Out-of-town students, directors, and parent chaperones will need to arrange housing in Delaware area hotels. Central Ohio residents may opt to commute.
Instrumentation
Target size is a 90-member ensemble with balanced instrumentation for both honor bands.
8 Flutes (includes Piccolo)
16 Clarinets (may include E-flat Clarinet)
4 Bass Clarinets (may include Contrabass Clarinet)
2 Oboes (may include English Horn)
4 Bassoons (may include ContraBassoon)
4 Alto Saxes (may include Soprano Sax)
2 Tenor Saxes
1 Bari Sax
12 Trumpets
8 Horns
10 Trombones
4 Euphoniums
6 Tubas
1 String Bass
8 Percussion
Cost
Students: $50 covers all festival activities, an ice cream reception on Thursday evening, Friday lunch and dinner, plus a commemorative t-shirt.
Directors: $50 covers the boot camp clinic fee, plus Friday lunch and dinner. Boot camp fees are waived for directors who nominate 10 students.
Payments for individuals or all people from one school can be paid online or mailed by check:
Pay now by credit card or Electronic Funds Transfer using OWU's secure online payment portal.
Payments by check should be made out to "OWU Honor Band Festivals" and mailed to:
Rich Edwards, Festival Director
OWU Music Department
61 S. Sandusky St.
Delaware, OH 43015
All participant fees are due by Friday, January 24, 2020.
Concert Attire
Dress for the concert is whatever your school band wears for concert performances. For some, this may be band uniforms, for others, concert black or Sunday dress. If more than one person is attending the festival from your school, please make sure you confer with them about their attire so that there is uniformity from school to school.
Parent and Director Participation
Except for seating auditions, parents, family members, and band directors are welcome to attend any of the festival sessions throughout the day.
Student Supervision
Participants will be supervised by festival staff at all times during scheduled events, except for Thursday dinner and Saturday lunch when we ask that a parent, guardian, or director is on hand to coordinate dining arrangements with their student(s).
Attendance Expectations
Students are expected to attend all scheduled festival activities. Festival participants have been specially selected based on their musicianship, effort, and positive attitude. Any unannounced no-shows would compromise the integrity of the clinic and reflect poorly on you, your band, and your school.
Event Locations
Ohio Wesleyan University:
Driving Directions & Campus Map
Hotels
Selected students will find reasonably priced accommodations at several Delaware-area hotels. All housing arrangements are the responsibility of the student, parent, and/or band director.
A special-rate block of hotel rooms have been reserved for out-of-town participants at the Pacer Inn.
Pacer Inn – (740) 362-0050
259 S Sandusky St, Delaware, OH 43015. Located about half a mile from the OWU campus.
Quality Inn & Suites – (740) 363-8869
1251 Columbus Pike, Delaware, OH 43015. Located about 2 miles from the OWU campus.
Baymont Inn – (740) 363-3510
1720 Columbus Pike, Delaware, OH 43015. Located about 2 miles from the OWU campus.
Concert Music
9-10 Honor Band music will be selected from the following works:
11-12 Honor Band music will be selected from the following works. NOTE: not all of this music will be featured in the Festival Finale Concert. Targeted works most likely to be performed at the concert are indicated below:
Parts will be shared with students and directors in advance so they can begin practicing when acceptance notifications go out on January 6, 2020. Please note that final part assignments will be determined by on-site seating auditions on February 13, 2020.
Important Documents
Parents & Directors:
Please complete these Google Forms ASAP so that your child receives a festival T-Shirt and has an opportunity to participate in one of the masterclass sessions with our instrumental clinicians.
Please print, complete, and present these documents when your student checks in for seating auditions on Thursday, 2/13/20.