Anna Lenora Davies '19 is an English major with a history minor. She feels especially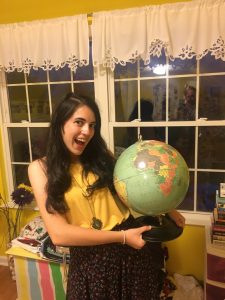 blessed to be included on this project because she's fascinated with the study, theory, and motivations behind British colonialism and this class combined both of her academic concentrations. At Ohio Wesleyan, she sits on the English Department board, is a member of the President's Club, and is a sister of Kappa Kappa Gamma. She is also the Editorial Intern for the University Communications office. So far at OWU, she's traveled to New Orleans, Northern Ireland, and England. Next year she looks forward to continuing her studies of colonial history. In her free time she can be found at concerts with her dad, at church with her mom, or dogsitting for the professors in the English Department who understand her obsession with four-legged friends.
Izzy Sommerdorf '18 is a Zoology major with a minor in English from Lakeville, Minnesota.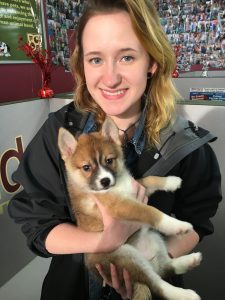 She's really enjoyed being able to be involved with this course because it has opened her mind to topics and allowed her to have a space to think about larger world issues. At Ohio Wesleyan, she works for Admissions as a tour guide, she is public relations for Women In Science, has a radio show called "The 1996" and lives in Citizens of the World house. Outside of OWU, she also volunteers at the Columbus Zoo and loves to spend her free time hiking and randomly going camping with friends. Through OWU she has traveled to New Orleans, and Washington D.C. and will be traveling to Thailand this summer to volunteer with the Wildlife Friends Foundation.
Sarah Gielink '20 is a Theatre and English double major, Spanish minor, from Twinsburg,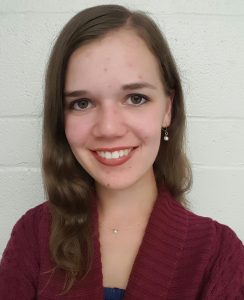 Ohio.  She is grateful to be a part of this course, having learned an overwhelming lot already and knowing that there is more to come.  This will be her first travel with Ohio Wesleyan.  On campus, she has served as the Treasurer of Wesleyan Players, a Representative to the Department of Theatre and Dance's Student Board, and has recently become a Sister of Delta Zeta's Alpha Rho Chapter.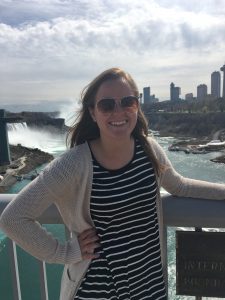 Catharine Boyle '18 is an English and Sociology double major from Niagara Falls, New York. She has been very excited to be a part of this course because it covers issues that are frequently covered in Sociology and English so it has been a way to combine the two into one course. This will be her first travel experience with OWU but not her first travel experience ever. On campus, she is a member of Kappa Kappa Gamma, a Facility Manager at the Meek Aquatics Center, chairman of the Sociology Student Board, representative of the English Student Board, and Membership Director on Panhellenic Council. In her free time she can be seen reading, working out, or running triathlons.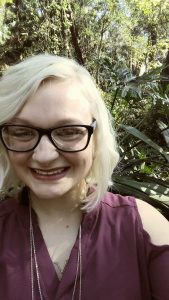 Jordyn Hollenbeck '18 is a Psychology major from Williamsport, Ohio. She is thankful for being accepted into this course because traveling is a passion of hers that must be lived out vicariously most of the time; she partook in this course to yield this opportunity and to further expand her knowledge of the world. Although she has traveled before, this will be her first time traveling with Ohio Wesleyan University. At the university, she works with the Columbus Initiative program, tutoring elementary school children at an inner-city academy, while also working as a receptionist at the Sagan Academic Resource Center. Over the summer—after returning from her English escapade—she can be found working with the Helpline program in downtown Delaware, Ohio, reading Stephen King, getting smooches from her ornery pups, or soaking up as much as Vitamin D as her body will permit.
Adriana Rodriguez '18 is a Theatre and English Literature double major and Women's and Gender Studies minor from San Juan, Puerto Rico.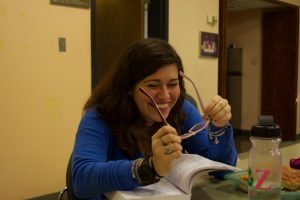 She had been looking forward to this course and was so excited to be a part of it. Through the semester, she has been exposed to amazing texts she would never have found otherwise, challenged in ways she didn't expect and has had the amazing pleasure of exploring the themes of race and identity that are so dear to her heart. At Ohio Wesleyan Univeristy, she is a proud member of the Sexuality and Gender Equality House, Records Manager for the Office of Human Resources, the Alumnae Chair for the Delta Zeta sorority, and the incoming President of Theta Alpha Phi, the Theatre Honorary Society.  In her spare time, she can be found ranting about the patriarchy like the jaded intersectional feminist she is.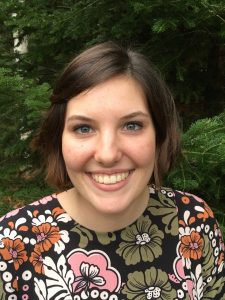 Rebecca Gerrish '19 is an English: Creative Writing and Film Studies double major with a minor in Fine Arts from Bar Harbor, Maine. She is so grateful to be a contributor to this project and a member of this class because it has exponentially broadened her outlook on the world. She feels that exposure to texts and authors she would not have encountered outside of this class have fundamentally changed the way she perceives the experience of black and ethnic minorities in Britain. She is an English Department Student Board member, and in her free time, you can find her watching films, reading, or listening to the Beatles. This is her first experience traveling with OWU, though she has previously been fortunate enough to visit England, Germany, Spain, and Italy. Next year she is planning on continuing to travel while studying abroad in Ireland.
Emma Nuiry '17 is a Sociology/Anthropology and Women & Gender Studies double major from Los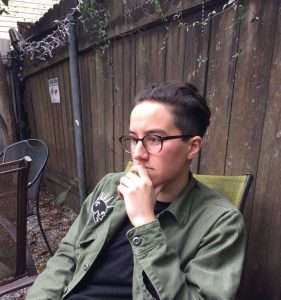 Alamitos, California. This course has built on her past studies and furthered her knowledge as an anti-racist activist. At Ohio Wesleyan University, she is a member of the Peace and Justice house and Kappa Alpha Theta sorority. She has been on a wilderness trek to the Upper Peninsula of Michigan and two Interfaith service trips: one to San Diego, CA to engage with the intersections of immigration and queer identities and one to Atlanta, GA to explore women of color's experiences within the healthcare system. Additionally, she studied abroad in the Netherlands, Poland, Czech Republic and Germany on a Comparative Women & Gender studies program. In her time at OWU she was a part of Wesleyan Council for Student Affairs and the Women's Resource Center intern. Emma enjoys finding warm beats for her ears and beautiful images for her eyes.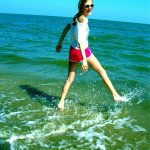 Abby Kolczun '18 is a English major and Sociology/Anthropology minor. This course has built on her past classes because she has taken British literature courses and continues to learn and build her knowledge everyday especially with the aid of this class. She is very excited to be traveling to London because it will be her first time and can't wait to partake in all of the activities that are planned. This is her first time in a travel learning course and now she is anxious to sign up for more before she graduates. She just got accepted onto the English Student board and is excited for the new opportunities that will bring!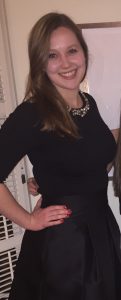 Madeleine Juszynski '18 is an Economics major with minors in Accounting and
Mandarin Chinese who desperately wishes she had enough time to finish an English major. She took this class because she was interested in learning about underrepresented voices in British literature and excited to learn more about British history. At Ohio Wesleyan, she is the Senior Class President, the Chief Administrative Officer of Kappa Alpha Theta, a member of the Moot Court team, an Accounting Fellow, and a LEAD Fellow.
Courtney Dunne '17 is a Journalism and Theatre double major from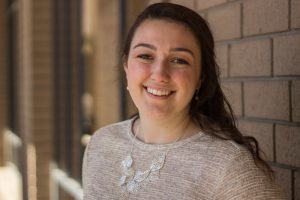 Cincinnati, OH.  She is interested specifically in learning about black British playwrights, which this class and this project have allowed her to explore so much more.  This will be her sixth time traveling with an OWU group and this has been by far one of the coolest experiences to read about all the places and people we will get to see.  She is most exctited to see theatre productions in London and enjoy one last great OWU trip.  At Ohio Wesleyan she is a member of Kappa Alpha Theta, Theta Alpha Phi, she lives in the Interfaith House, she is an intern in the Admissions office as well as the Communications office.  Post graduation she will be traveling the country working for Kappa Alpha Theta as an Educational Leadership Consultant.  This was one of her favorite classes at OWU.