Linton Kwesi Johnson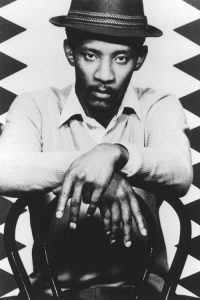 "It is noh mistri/Wi mekkin histri/It is noh mistri/Wi winnin victri."
The "father of dub poetry" and the first Black author to be featured in the Penguin Classics series, Linton Kwesi Johnson's poetry tells blunt and shocking stories of police violence, racism experienced by Black youths from white supremacists, and outright violence that protesters want to throw back at the oppressors (British Council, "Linton Kwesi Johnson-Literature").
Johnson was born in 1952 in British-colonized Chapelton, Jamaica. In 1963, he moved to London to live with his mother. He eventually went on to study Sociology at Goldsmiths College, University of London, where he graduated from in 1973. The university holds his old class papers in their archives. While at university, Johnson got an early start as a social activist, joining the Black Panthers in 1970 and starting a poetry workshop and movement within his chapter (Poetry Archive, "Linton Kwesi Johnson"). He also joined a group called Rasta Love, which featured both poets and percussionists. Johnson created the term "dub poetry" himself to describe poetry styles that mirrored how reggae DJs would blend verse and music together. But, he refrains from describing his own poetry as "dub poetry," preferring to be a poet first and not a musician (British Council, "Linton Kwesi Johnson-Literature").
A year after graduating from university, Johnson joined the Brixton-based collective Race Today, which published his first book of poems titled Voices of the Living and the Dead. His second book, Dread, Beat An' Blood, was released as a book in 1975 and later as record with a reggae band in 1978. He went on to release several more albums like this on the Island record label before starting his own label called LKJ (British Council, "Linton Kwesi Johnson-Literature").
In 1977, Johnson earned the C. Day Lewis fellowship at the London Borough of Lambeth and was their writer-in-residence. He also worked at the first British center for Black art and theatre, the Keskidee Centre, as the Library Resources and Education Officer. He won a silver Musgrave medal in 2005 from the Institute of Jamaica for his work in the poetry field (Poetry Archive, "Linton Kwesi Johnson").
Johnson has lived in the historically Black neighborhood of Brixton almost all of his life in England, and much of his work focuses on the injustices that people of color, poor people, and the working class experienced in Brixton. His work particularly features stories he witnessed firsthand while growing up of exploitation in the workforce and the "sus" (suspicion) laws used by the police force on Black citizens. In speaking about the era, he argues, "Writing was a political act and poetry was a cultural weapon." (Poetry Archive, "Linton Kwesi Johnson").
Johnson's style of patois used in his poetry has been read by literary critics as a way to fight back against the white English repression of Black heritage and the determination of English schools to brand Black dialects as "incorrect" or just "wrong." The phonetic style it is written in adds to the music and protest chant aesthetic, and some academics think it creates a bridge for British-Jamaican immigrants to feel connected to their heritage and culture. Frequently, Johnson also writes poems to the memory of anti-racist protesters, strike coordinators, and socialist activists that were killed by authorities in riots and protests (British Council, "Linton Kwesi Johnson-Literature").
As an Afro-Caribbean immigrant writer growing up during a time of social upheaval and injustice towards minorities, Johnson's poetry stays relevant today in an England that struggles with political decisions of gentrification, immigration, and economics.
Eddy Grant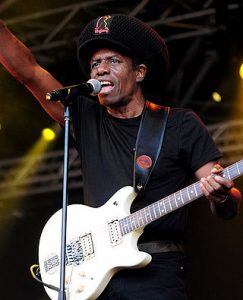 "We're gonna rock down to Electric Avenue/And then we'll take it higher." 
Best known for his 1982 reggae smash hit "Electric Avenue," Guyanese-British singer Eddy Grant did more than just write chart-toppers. At a young age he was experimenting with his cultural background and putting it into the practice of his musical talents. In 1965, he created one of the first multicultural pop bands in Britain to ever find mainstream success, The Equals. The Equals were Grant, twin Jamaican immigrants Lincoln and Derv Gordon, and white Englishmen John Hall and Patrick Lloyd (Greene, "Eddy Grant Biography").
Grant's life of music started on 5 March 1948, in British-colonized Guyana (World Factbook, "Guyana"). He grew up listening to tan singing, an Indo-Caribbean vocal performance style of South Asian descent. When his family moved to working-class Stoke Newington in London in 1960, Grant integrated his tastes with blues, rock, and R&B (Greene, "Eddy Grant Biography").
Grant's contributions to music within the next decade–including multiple international singles with The Equals, the opening of his own British reggae label Torpedo, and a few solo works here and there–were cut short by a heart attack at the age of 23. He lived, but had to give up his busy lifestyle, which was deemed the cause of the illness (Greene, "Eddy Grant Biography").
Grant refused to give up his passion, though. In 1972 he opened The Coach House, a recording studio where he helped artists signed to his new label, Ice. But he still wanted to use his own talents and released Message Man in 1977. It was a political album filled with lyrics of racial violence, neglect from the majority, and working-class struggles that Grant witnessed during his adolescence. The album flopped commercially, but still proved a springboard for Grant's solo career. It also created a great deal of music press hype about the new style Grant was pioneering; he combined calypso with modern soul (Greene, "Eddy Grant Biography").
The real success came with Grant's major hit "Electric Avenue" in the early 80s, an upbeat-sounding but dark song about the 1981 Brixton Riots. The Riots were fueled by tensions between black youth and white British police, specifically over "stop and search" procedures put in place to try and stop crime, and with frustration among West Indian and East Indian residents about the declining state of life in Brixton since the end of World War Two. High unemployment among black British residents of Brixton also caused anger. Riot tensions started on April 10 when police tried to help an injured black man, but had their actions misinterpreted and were attacked. This lead to severe police patrol among the area, with up to 84 officers in the streets of Brixton at a time. After a young black taxi driver was stopped and searched the next day, riots broke out in the streets and an estimated 324 people (both rioters and police) were injured (Felix, "Brixton Riots").
Grant emigrated to the Barbados in the mid-80s, opened a studio called Blue Wave, and dedicated his career to helping young and emerging calypso artists navigate the music scene. He also became a successful music publisher and remained in control of Ice Records (Greene, "Eddy Grant Biography").
A witness to black working-class immigrant frustration, a man who came of age during significant changes in the ethnic landscape of Great Britain, and the musical mastermind who pioneered innovations in both traditional West Indian music and British rock, Grant remains a multitalented product of the British Empire–and his lyrics let an intuitive listener know just that.
Farrokh Bulsara (Freddie Mercury)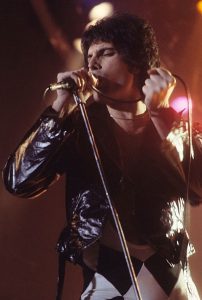 "Mama/Life had just begun/But now I've gone and thrown it all away." 
The quintessential band of Britishness, Queen generally isn't seen as the product of Empire. However, lead singer Freddie Mercury–legally named Farrokh Bulsara–was born into a Parsi family in the British Protectorate of the Sultanate of Zanzibar, making him of direct Indian descent (Encyclopaedia Britannica, "Freddie Mercury"). Being Parsi, Mercury and his family practiced the ancient Iranian religion of Zoroastrianism, the oldest known monotheistic religion in the world. It is often credited with inspiring Christian and Islamic traditions (BBC, "Religion: Zoroastrianism").
Parsis themselves got their name from their Persian history and are the descendants of a group of northern Iranian Zoroastrians who fled to India in the 10th century to avoid Muslim crusades. Not seeking conversion and not wanting their temples and sacred texts destroyed, these Persians found new life in India and still remain an active religious minority in Mumbai and Gujarat. Their Towers of Silence, a key part of Zoroastrian death ceremonies, are religious landmarks in these regions. As early as the 17th century, Parsis started trading with British East India Company posts, and historically were viewed as more "receptive" to European culture (Encyclopaedia Britannica, "Parsi").
Mercury was born 5 September 1946 in Stone Town, Zanzibar (also known as Zanzibar City) in a family of Indian emigrants. His father moved the family from India to Zanzibar, since he was a clerk with the British government and got transferred to another part of the Empire. As a child, Mercury was sent to boarding school in Panchgani, Maharashtra state, India. During the school year in 1959, Mercury and his school friends formed a band called The Hectics. He was the pianist (Encyclopaedia Britannica, "Freddie Mercury").
The Bulsara family moved to Feltham, England in 1964, after Zanzibar and Tanganyika gained independence and formed the new united country of Tanzania. They were fleeing local rebellions and protests by African residents against wealthy Indian emigrants. In London, Mercury attended Ealing Technical College and School of Art (which is now the University of West London), where he studied graphic design and graduated in 1969 (Encyclopaedia Britannica, "Freddie Mercury"). After graduation, Mercury performed as a singer with several local bands like Wreckage, Ibex, and Sour Milk Sea. Following the disbandment of these acts, Mercury teamed up with his friends Roger Taylor and Brian May, who were in a band called Smile. With Mercury at the helm as the frontman, the band changed their name to Queen and released their debut in 1973, Queen, followed closely by 1974's Queen II (Queen Productions, "Freddie Mercury").
While the albums initially failed to garner much attention in the United Kingdom, the album Sheer Heart Attack (1974) and A Night at the Opera (1975) lead to almost overnight success. Songs like "We Will Rock You" and "We Are The Champions," both released in 1977, have become integral pieces of both United States and United Kingdom pop culture and sports life (Queen Productions, "Freddie Mercury").
Queen also gained a massive following with their live shows and are often credited with starting the subgenre of "stadium rock." Mercury was well known for his flamboyant costumes and stage presence, but was allegedly quite shy off stage and didn't give interviews frequently. His sexuality was also constantly debated among the gossip press, as Mercury dated both women and men but never revealed much about his personal romantic life (Queen Productions, "Freddie Mercury").
Mercury's life was unfortunately cut short in 1991 when he died of AIDS-related pneumonia. While the music of Queen lives on in the public consciousness, Mercury's tale of multiculturalism and symbol of the product of Empire remains relatively unknown.
Young Fathers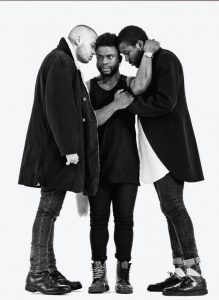 Young Fathers are one of the most politically-vocal rap groups since Public Enemy or N.W.A in the 90s. The group consists of Graham 'G' Hastings, Kayos Bankole and Alloysious Massaquoi. Hailing from Edinburgh, this outfit won the Mercury Prize in 2014 for their second album, Dead. Bankole and Hastings both were born and grew up mostly in Edinburgh while, Massaquoi was born in Liberia and moved to Edinburgh when he was four. They publicly refuse to talk to right-wing newspapers like The Sun or Daily Star and were extremely critical of the Brexit decision. Hastings commented on the Brexit vote in Dazed Magazine online: "I think a lot of people voted Leave because a lot of people are xenophobic, even if they don't say it out loud. If you think we should go back, that's only because you've had it too good at the expense of those who haven't. Yes, it was a simpler time when people weren't aware of other cultures or how the UK has raped half the world for its own benefit – simple, but a lie" (Bulut 1). Their social media presence solidifies their politics with posts of the band holding up a flyer stating, "Stand Up To Racism & Fascism," and using hashtags such as: #refugeeswelcome, #dontbombsyria and #blacklivesmatter. Their past tour was called "We Are All Migrants Tour," which featured imagery of people holding signs, pieces of paper or writing on their bodies #weareallmigrants.
White Men are Black Men Too is the third LP by the Scottish lo-fi R&B rap, Young Fathers. WMABMT is their most confrontational and political album. It is also their most successful yet receiving critical acclaim and landing on several "Best Album of 2015" lists. Compared to Dead, WMABMT is less polished but their sound has a lasting impression. Their music is gritty and aggressive, yet at the same time soulful. Similar to many other hip-hop groups, they use combination of genres to utilize unique sounds that create music that transcends genres. "Old Rock n Roll",  contains their most overt conversations of racial politics, "I'm tired playing the good black / I'm tired of having to hold back / I'm tired of wearing this hallmark of evils that happened way back / I'm tired of blaming the white man / His indiscretions don't betray him / A black man could play him". In "Sirens", we see references to police violence through their lyrics and in "27" we are given some of the best melodies being interlaced with Massaquoi yelling "Black Oppression!" Although their tracks lose some of their power towards the end of the LP, this album approaches social justice through song eloquently and effectively. With textured vocals and pop potential, Young Fathers are onto something big, it's only a matter of time.
Laura Mvula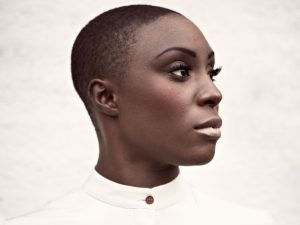 Laura Mvula was born in Birmingham, England in 1986. She grew up in a religious household where pop music was banned, but jazz and gospel music flourished. Her rise to soulful prominence began early. After signing with RCA in 2012, Mvula released her first EP, She, and then went on to release Sing to the Moon in 2013. Her music is electric, powerful and warm. The elaborate orchestral compositions that weave their way through each song provide lush sounds. Partnered with her textured vocals, Laura Mvula's music feels utterly refreshing. Mvula's voice feels familiar but has a contemporary flare that makes it refreshing. Her soul is felt throughout her tracks whether through a swell or a whisper. Paul Lester of the Guardian coined a new term "gospeldelia," a new music genre, when describing Mvula's music. Sing to the Moon went on to reach number 9 on the UK Albums chart and was nominated for a Mercury Prize. Mvula has described the album as "The most liberating point I've ever been" and "a celebration of everything I've ever loved about music."
Mvula's work would not necessarily be described as political, but rather her identity cannot be separated from politics. As a black woman, blackness is central to her music and her womanhood is worn as a badge of honor. In 2016 she declared, "Black identity is really important for me- that's what's on my heart now and has been in my subconscious for most of my life."  Although Mvula's music speaks for itself, it is her music videos that make her message feel fully fleshed out and visibly show her centering blackness. Her videos for, "Overcome," "That's Alright," "Green Garden" and "Phenomenal Women," feature all black dancers. This reflects a distinct choice to center black female bodies instead of using them as props like many other musicians. She provides a platform through these videos to show strength, happiness and resilience within the black community.  She is boldly and unapologetically affirming who she is with tracks such as "Make Me Lovely" and "That's Alright". These tracks both have positive affirmations of self love and unapologetic blackness. In "She", Mvula voices this resilience and conviction that black women must have in order to survive as "But she don't stop" is repeated like a prayer.
Spotify Playlist, This Is England
Sources used:
British Council. "Linton Kwesi Johnson-Literature." literature.british.org. Accessed 10 April 2017. https://literature.britishcouncil.org/writer/linton-kwesi-johnson.
The Poetry Archive. "Linton Kwesi Johnson." poetryarchive.org. http://www.poetryarchive.org/poet/linton-kwesi-johnson.
Queen Productions. "Freddie Mercury." Queen Online. Updated 2010. Accessed 16 March 2017. https://web.archive.org/web/20100808050139/http://www.queenonline.com/history/35
The Editors of Encyclopaedia Britannica. "Freddie Mercury." Encyclopaedia Britannica. Updated 22 March 2016. Accessed 16 March 2017. https://www.britannica.com/biography/Freddie-Mercury
The Editors of Encyclopaedia Britannica. "Parsi." Encyclopaedia Britannica. Updated 20 July 1998. Accessed 16 March 2017. https://www.britannica.com/topic/Parsi
Brenton, Felix. "Brixton Riots (April 10-12, 1981)." BlackPast.org. Accessed 17 March 2017. http://www.blackpast.org/gah/brixton-riots-april-10-12-1981
Greene, Jo-Ann. "Eddy Grant Biography." AllMusic. Accessed 17 March 2017. http://www.allmusic.com/artist/eddy-grant-mn0000796763/biography
The World Factbook. "Guyana." Central Intelligence Agency. Accessed 17 March 2017. https://www.cia.gov/library/publications/the-world-factbook/geos/gy.html
BBC. "Religion: Zoroastrianism." bbc.co.uk. Updated 10 February 2009. Accessed 18 April 2017. http://www.bbc.co.uk/religion/religions/zoroastrian/ataglance/glance.shtml
Dazed. "How Do British Musicians Feel About Brexit?" Dazed. N.p., 05 July 2016. Web. 27 Apr. 2017.
Perry, Kevin. "Young Fathers Interview: The Mercury Prize Winners On Islamophobia, Pushing Perceptions And Their Incendiary New Album."NME. N.p., 04 Oct. 2016. Web. 27 Apr. 2017.
Lester, Paul. "Ones to Watch in 2013: Laura Mvula." The Guardian. Guardian News and Media, 31 Dec. 2012. Web. 27 Apr. 2017.
Smyth, David. "Laura Mvula: I've Grown Up, I Take Music More Seriously but Myself Less so."Evening Standard. N.p., 05 Feb. 2016. Web. 28 May 2017.