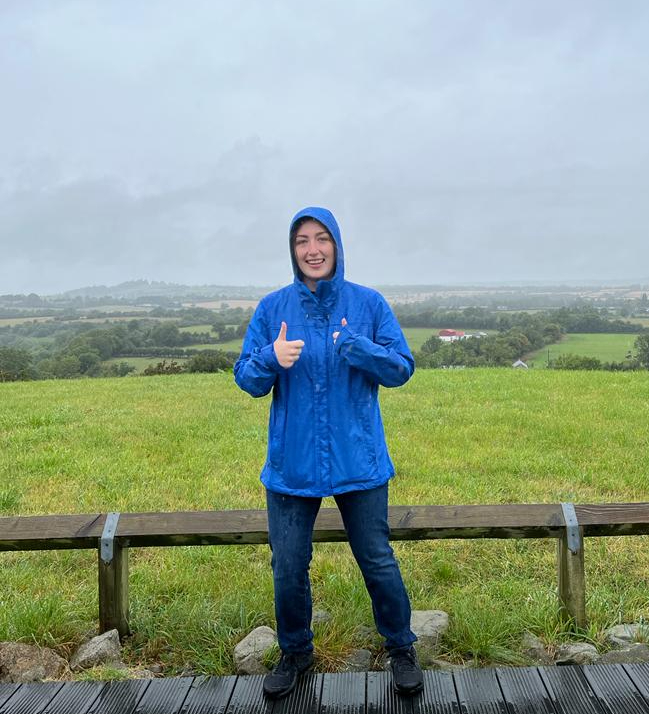 If Helena von Sadovsky has any advice about living in Ireland, it is as practical as it comes: "Don't bother with an umbrella—get yourself a rain jacket." A Medieval Studies major with a minor in Art History, Ohio Wesleyan junior von Sadovsky spent the fall 2022 semester studying at the University College Cork (UCC) in Ireland through the Arcadia study abroad program. She went to study archaeology and ended up crawling through wedge tombs, puzzling out the details of Irish politics while melting in a sauna, getting lost on public transportation, and eating an inordinate amount of cheese from The English Market.
"And I would do it all a thousand times over for the experiences I had," she says, her eyes lighting up as her mind travels back across the Atlantic to where she left her heart in an ancient Irish tomb.
A Day in the Life: Cheeses, Medieval Classes, & Soccer
"My life varied greatly each day, especially with how classes are scheduled at UCC," von Sadovsky admits. And living a fifteen-minute walk away from main campus and even closer to the archaeology buildings, she had no shortage of opportunities to enjoy all the city of Cork had to offer. Going out and experiencing the city, she says, is a vital element of avoiding homesickness. "Even if you want to just sit and chill, do it out in a cafe on the street. Go out and see as much as you can!"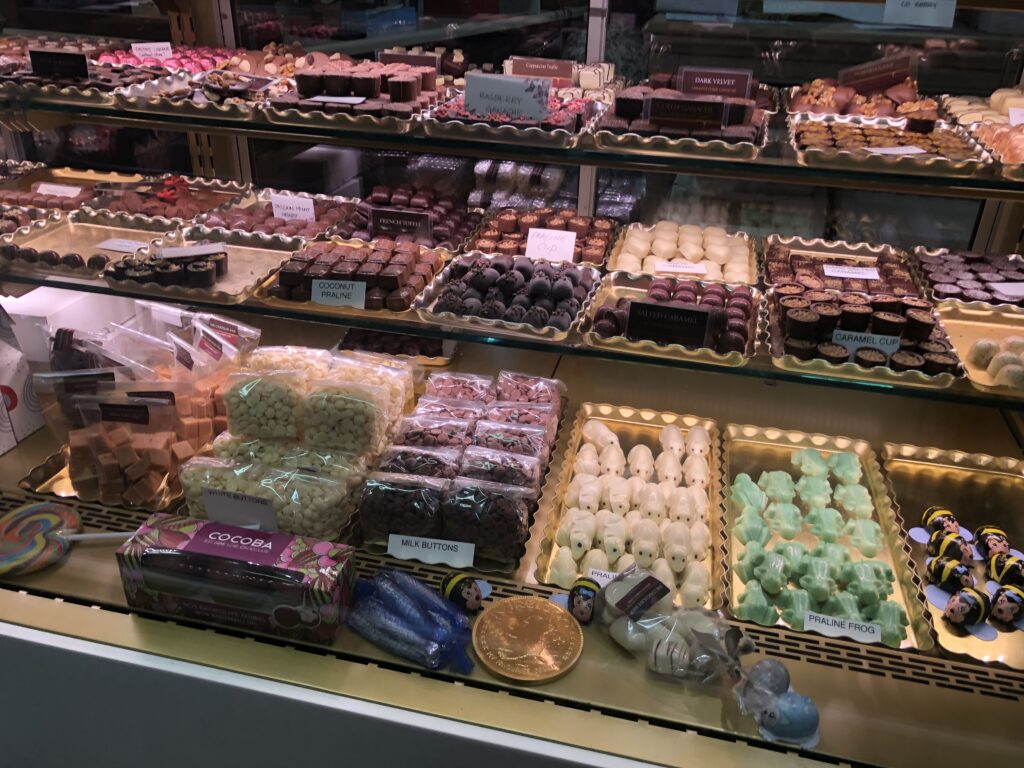 Before classes started around 9:00 AM, von Sadovsky would stop by a cafe for a chai latte and a pastry. Other days, she might visit the local English Market with its endless counters of fresh fruit, local produce, fish and meats, and, most importantly, cheese.
"The Irish love their cheese," she explains, herself a staunch supporter and consumer of all the dairy products Ireland had to offer. "Walk five miles in any direction in Ireland, and you'll find a new accent and a new cheese." The Market burst with colors and smells wafting from under the yellow awnings. The skylights poured sunlight into the bustling building. "I miss it all so much," von Sadovsky laments.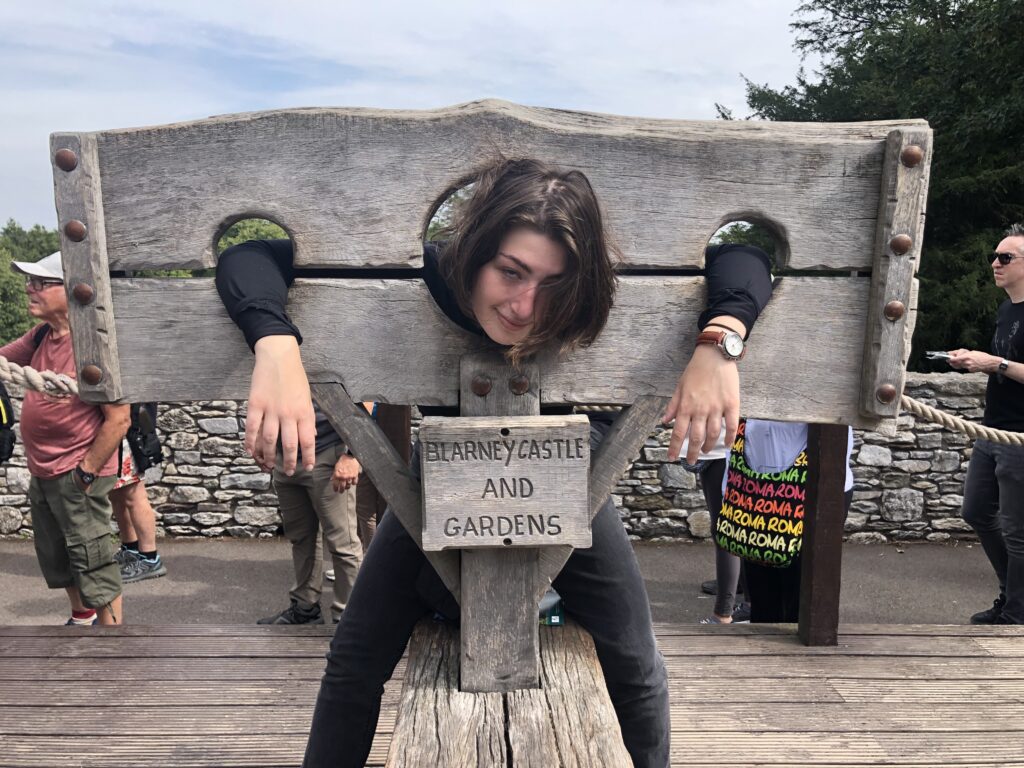 Once she was able to tear herself away from the banquet of delicacies, she would arrive at campus. The archaeology department split semesters in half, and each quarter she was able to take between five and six classes. One such class was Early Medieval Archaeology. The class often took field trips across the country to visit archaeological sites, but the city itself also offered opportunities for learning about Ireland's history. "There was so much [architectural history] right there in town, still in people's daily lives," she says. In Medieval Manuscript Culture, von Sadovsky studied the ancestry of the scripts and typefaces we use today, learning how language has been used as a tool of empire and religion and how companies today still use scripts to elicit emotions.
But a life of academics alone is a sorely unbalanced one. Many Irish students tend to visit home over the weekend, and the university has no dorms, so it can become easy to isolate, warns von Sadovsky. "If you struggle with being alone, the eight-hour time difference from your support systems back home can be difficult. You have to be able to navigate all that and seek out the university's mental health resources when necessary."
For von Sadovsky, sports became the key to finding friends and socializing. Joining a soccer club, she quickly built friendships with her teammates on and off the field, during games and at celebratory pub excursions.
The AMRS Program: A Contextual Cornerstone
But how did our brave Medieval Studies major find herself thousands of miles from home, walking along the same streets that vikings once strode upon? It began with a movie.
"I grew up watching Indiana Jones and Laura Croft climbing through ancient tombs," von Sadovsky explains. To this day, the theme song for the Indiana Jones films takes her back to her childhood aspirations to explore and experience civilizations of centuries past.
"I was able to closely study familiar cultures in an unfamiliar ancient past."
And the practical tools to satisfy this ambition stemmed from Ohio Wesleyan's Department of Fine Arts and Department of English. Professors such as Dr. Patricia DeMarco and Emerita Professor of Fine Arts Dr. Carol Neuman de Vegvar encouraged her search for medieval archaeology programs abroad. Ireland has always been a dream destination, and the University College of Cork's medieval archaeology program offered von Sadovsky everything she needed. "It's important to get exposure to the world, to go to another country and experience being on your own. It helps you grow up," she says.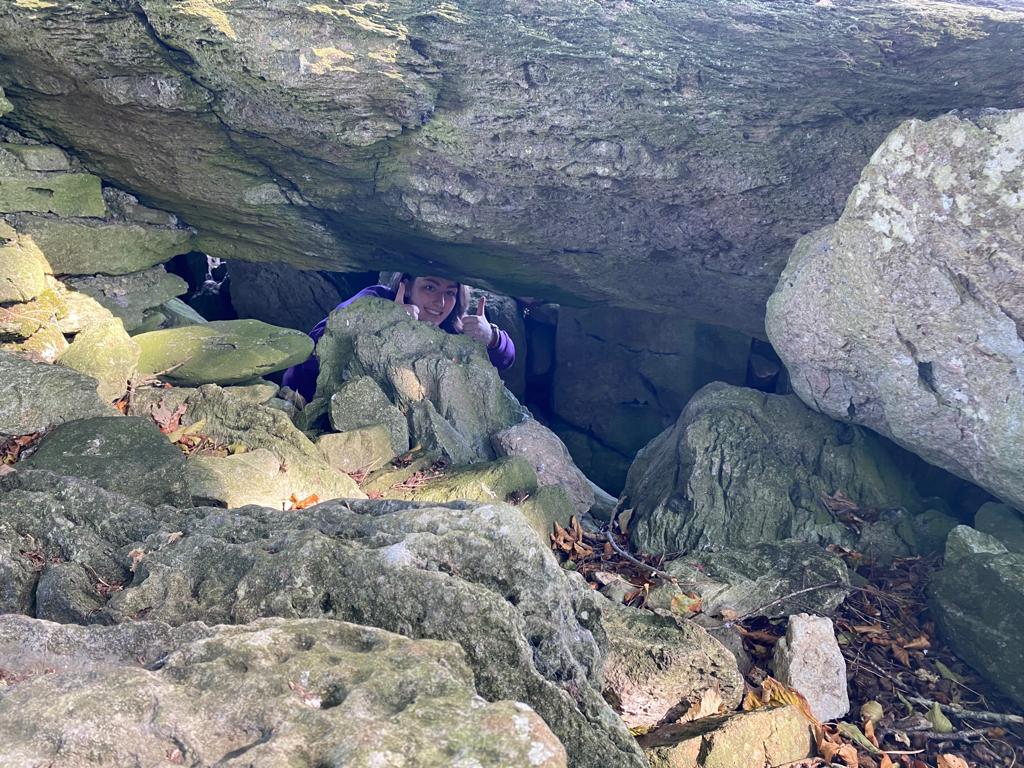 "[The Ancient, Medieval, and Renaissance Studies Program] really emphasizes writing," adds von Sadovsky. "Knowing how to handle and combine historical sources with ancient art sources in their specific contexts is a skill that really helped, especially when I had assignments about journal articles and archaeology."
With this training, she had the tools to make the most out of her experiences and coursework in Ireland. "Going in, I had little experience with archaeology," she explains. But with the historical context gleaned at Ohio Wesleyan, "I was able to closely study familiar cultures in an unfamiliar ancient past."
Von Sadovsky could hardly contain her excitement when she finally got to visit archaeological sites across Ireland. During one of her earliest trips, she went into Labbacallee, Ireland's largest wedge tomb:
"'Here I am,' I thought, 'climbing around in an ancient tomb in a country I have always dreamed of visiting. I know this tomb, and I know what I'm looking at. This is what I want to do. Everything in my life is coming together.' It was a purely euphoric moment."
Exploring Ancient Tombs
"Wedge tombs are built like ants," explains von Sadovsky—they have two main chambers. The unique contents of the chambers at the Labbacallee wedge tomb are a particular anthropological puzzle. The first chamber houses the remains of multiple people, but the back chamber contains only the remains of an old woman and a collection of grave goods. Her bones reveal that she was remarkably old, especially for the neolithic period, and one of her legs was physically damaged. In order to survive for that long and be buried so ostentatiously, she must have been revered and honored by her community. Her legacy lives on in the very name of the town of Labbacallee, which means "hag's bed."
But wedge tombs are just one of the many types of archaeological sites Ireland has to offer. On bus trips around the country, von Sadovsky visited the neolithic passage tombs at Newgrange and Knowth.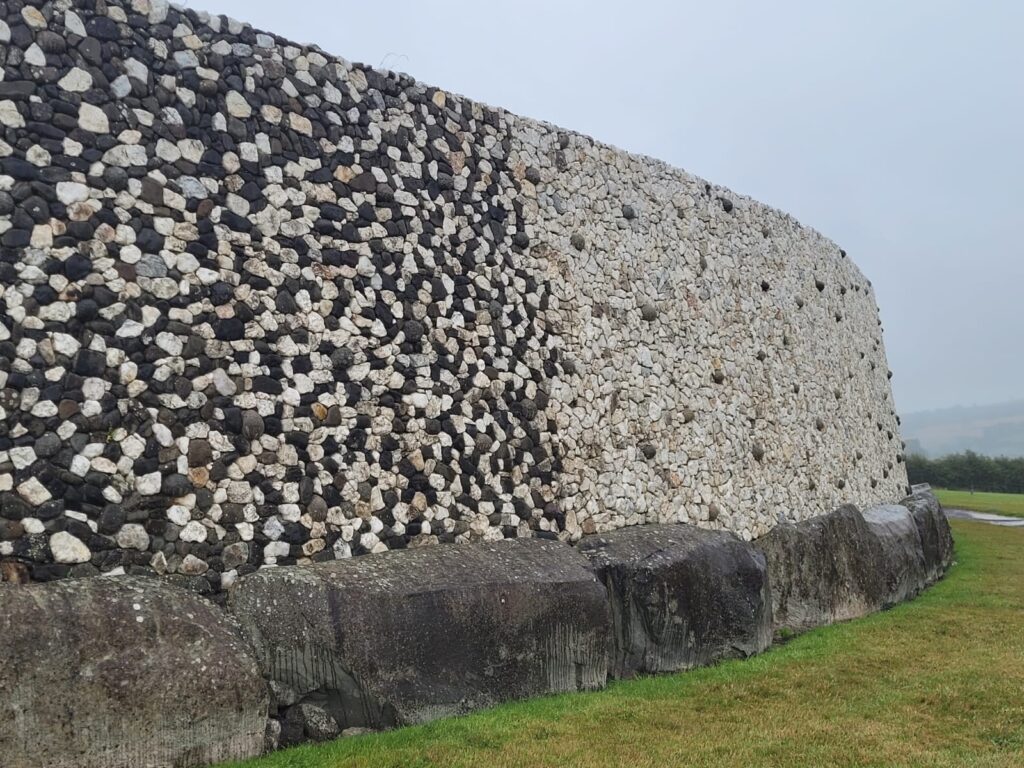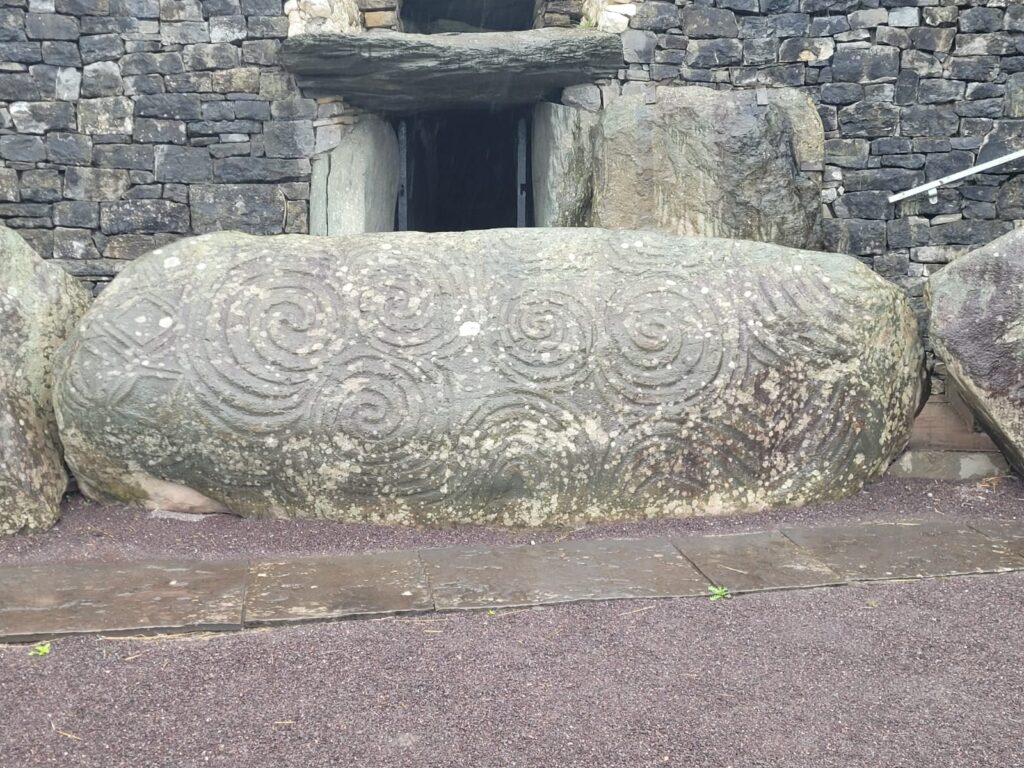 The restored quartz exterior of the Newgrange passage tomb glows in the sunlight. In order to replace the stones that had fallen off over the centuries, archaeologists have mapped the fall patterns of surrounding stones and returned them to the wall. Hidden under the grassy roof runs a central chamber and three smaller chambers connected in the shape of a crucifix. However, the tomb was built in 3200 BCE, long before Christianity was first practiced and even before the Great Pyramids and Stonehenge were built. The passages are tight, and the chambers contain comparatively few bones. In this sacred space, "only a small number of the community members would have been able to enter during rituals," explains von Sadovsky. "They only buried one person every few generations, and they were a variety of genders from many families." Were they heroes? Religious leaders? Archaeology often reveals more questions than answers.
Light rituals were also central to neolithic Irish communities. Newgrange is aligned to mark the winter solstice. When the distant sun stretches its rays to touch the stones chilled by the Irish winter, the light slowly extends across the doorway and into the tomb before fading out again. Today, the solstice is reserved for a select few.
The Mundane Become Magical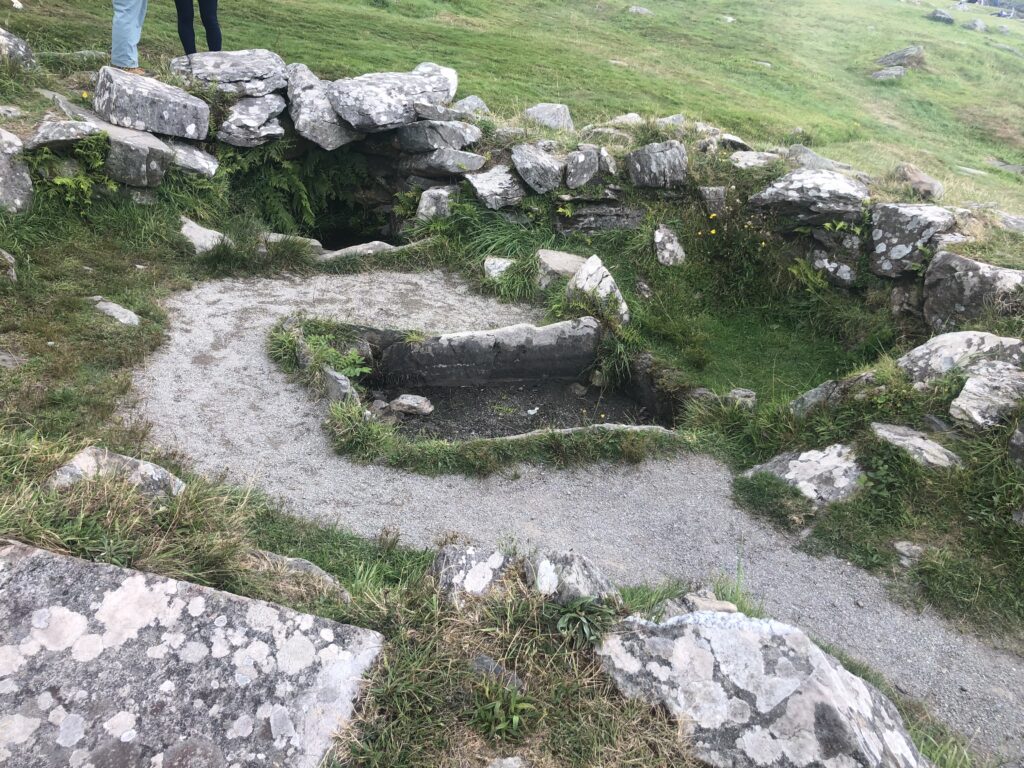 Another site von Sadovsky visited was Fulacht Fiadh. The Bronze Age site consists of a circle of burned and charred stones, two stone-lined troughs, and a small pool of water. But, as with much ancient archeology, the precise use of Fulacht Fiadh remains in debate. One possible use is cooking: the water could be boiled with heated stones. The heated water could also be used for treating arthritis or water births. "Other theories such as brewing, tanning, bathing, and textile manufacture have also been considered," says von Sadovsky. In her own research, von Sadovsky explored possible connections to climate change and the shifting purposes for Fulacht Fiadh, including its use as a spa or sauna.
The theory is far from baseless; sauna culture is still alive in Ireland today. After her Tuesday and Thursday water aerobics class, Von Sadovsky would spend time getting to know the local Irish women in the sauna. "They were all sweet and talkative, and all the elders knew each other," she says. Listening to their conversations and grappling to understand the complexities of Irish politics, she found even small talk fascinating to hear. "Mundane things are magical in new places," she says, "but if I'm perfectly honest, I still don't understand Irish politics."
---
Cover photo by Helena von Sadovsky. Ballynacarriga Castle.
Photos courtesy of Helena von Sadovsky.