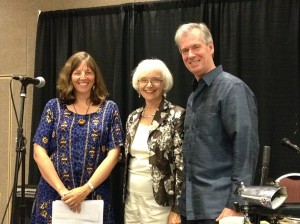 Congratulations to Florence Reed on winning the Peace Corps' 2012 Sargent Shriver Award for distinguished humanitarian service.  Florence is the President and Founder of Sustainable Harvest International (SHI), and a featured speaker in our Bite! series this fall.  She will be speaking on Monday, September 17th at 7pm in the Benes Rooms of the Hamilton Williams Campus Center, and of course the event is free of charge.
The Shriver Award is was named to recognize the tremendous contributions of the first Peace Corps Director, Sargent Shriver, in the founding and development of the Peace Corps.  The Shriver Award is given to a Returned Peace Corps Volunteer who continues to make a sustained and distinguished contribution to humanitarian causes at home or abroad or is an innovative social entrepreneur whose actions will bring about significant long-term change.
Read more about the award, the ceremony, Florence, and Sustainable Harvest International HERE!
We're so honored to have Florence speaking at OWU this fall!