Some Starting Points & Resources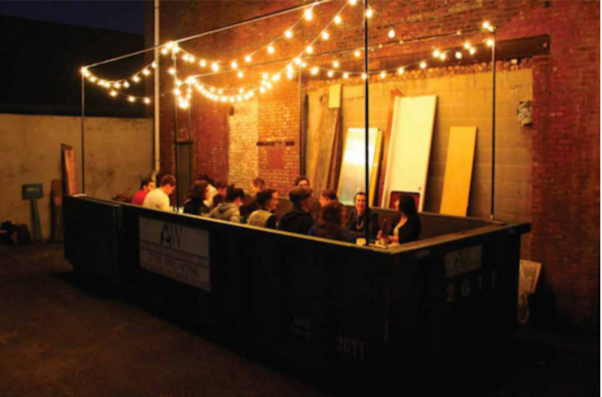 ---
Actual Sustainability Plans
It makes sense to look at other institution's sustainability plans as a guide for our OWU plan (which is currently to long and more of a compilation of stuff than an actual plan). A few examples are below, and there are more out there to use as models:
Books and Online Resources
Sustainability Courses
A Potential Grant:
The problem with sustainability is that it usually costs money in the right now, for (potential) economic and ecological benefits in the future. One way to get money for sustainability projects on campus is to explore grant opportunities. Typically, government and private foundations request grant applications and some focus on environmental issues, and we also have OWU Theory-into-Practice and SIP grants, which can be used for sustainability purposes.
People Off Campus with OWU Connections Who Might Help
Previous and ongoing work on sustainability at OWU:
Sustainability & Environment at OWU Blog: http://sustainability.owu.edu
This blog is intended to promote sustainability and environmental efforts at OWU and was motivated by a request by the Admissions Office to have easier access to ongoing projects on campus (to answer prospective student questions). The blog is also meant to help centralize sustainability and environmental information and resources for students, staff and faculty at OWU.
Spenser Hickey's Report on OWU Sustainability (Fall 2014): http://blog.owu.edu/sustainability/?p=362
During the Fall semester of 2014 Journalism student Spencer Hickey reviewed the state of Sustainability on OWU's campus, reviewing its history and current status, interviewing students, staff and faculty.
Geography 360 Environmental Geography Blog Projects Page: https://environmentalgeography.wordpress.com/projects/
Back in 2008 the topic of the Sagan National Colloquium was Sustainability. Around that time, Sean Kinghorn was hired as a campus sustainability coordinator using funds from a federal government stimulus funds grant. I decided to shift the projects in Geography 360 that semester to focus on applied campus sustainability. Such projects have continued to be core to Geography 360, and many are linked to the projects page on the course blog.
Geography 355 Geographic Information Systems Projects: https://gisci.wordpress.com
Geography 355 is the class where I first tried out extended, applied local projects. That was back in the spring of 2000! Since then, the course has pursued applied projects some of which relate to our Sustainability project.
Ohio Wesleyan University: Environmental Audit Course (PDF here)
A few years ago, Reed Callahan (a student at the time) put together a proposal for an Environmental Audit course as part of an independent study project. Reed's introduction states: "Environmental Studies at Ohio Wesleyan University is constantly looking for ways to improve the curriculum by integrating courses that teach students concrete skill sets. By incorporating a class based upon environmental consulting/auditing into the environmental studies major, students will develop technical and analytical skills that are desired by many employers. This type of class will give students the competitive edge in landing a job after graduation. My report will review the process that led me to this proposal and recommendations for the implementation of this class."
Green OWU: Sustainability Task Force Blog (2009): https://greenowu.wordpress.com and PDF report here.
The campus Sustainability Task Force was put together at the request of President Rock Jones in 2008. The Task Force was to help the administration decide on the practicability of signing the American College and University Presidents Climate Commitment. The final report to President Jones is linked to the blog. The blog and report comprise a significant amount of information related to the Climate Commitment which are all key components of a campus sustainability plan. The Task Force meets several times a semester, and the goal for the spring of 2015 is to help us compile the draft sustainability plan for campus.
Sustainability Region Project
One outcome of ongoing work (in Geography 360, but also National Colloquium topics on sustainability and the environment, the Sustainability Task Force, etc.) is a proposed Sustainability Region Project. Dr. Anderson and Krygier and other faculty are working on a proposal for funds to develop the idea and make it central to the Environmental Studies Program.