Fair Use Week, an annual celebration of the doctrine of fair use, kicks off on Monday February 22!
An important limitation to the exclusive rights of copyright holders, fair use and its four factors can help you determine if your proposed use of copyrighted material favors fair use or if you need to secure permission from rights holders. For general information about fair use and links to resources written for students and faculty, check out the OWU Libraries Copyright and Fair Use LibGuide.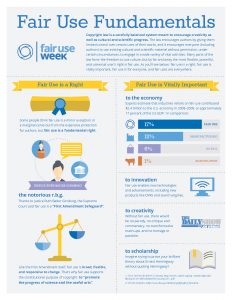 Brush up on your "Fair Use Fundamentals"
Visit the Fair Use Week Resources page to view fair use-themed videos, podcasts, articles, and more. To keep up with the latest news and events, follow @fairuseweek on Twitter.
As part of the celebration, MIT and Harvard will be co-hosting (and live-streaming) a panel discussion on fair use in scholarly journal and book publishing on Tuesday, February 23 from 12:00 to 1:00. Don't miss it!