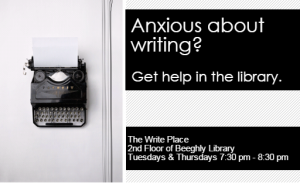 Do you need help with writing? Writing Center Peer Tutors are now available in Beeghly to provide constructive suggestions in all areas of writing including focusing, organizing, paragraphing, and proofreading.
OWU English majors Chase Smith and Julia Stone are available in Beeghly on Tuesday and Thursday nights from 7:30 – 8:30 pm. Walk ins are welcome and this service is FREE!
For more information, click here.