OWU Libraries is proud to offer its third and final event in its grant series…
Created Equal: America's Civil Rights Struggle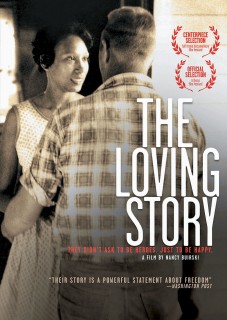 Ohio Wesleyan University Libraries will host a screening of the film The Loving Story followed by a discussion on Thursday, September 24, 2015.  The film will begin at 5:00 p.m. in the Bayley Room in Beeghly Library.  The discussion, led by Associate Professor Ashley Biser and Associate Chaplain Chad Johns, will begin at 7:00 p.m. The program is free and open to the public.
About the Film:
Mildred and Richard Loving knew it was technically illegal for them to live as a married couple in Virginia because she was of African American and Native American descent and he was white. But they never expected to be woken up in their bedroom and arrested one night in 1958. The documentary brings to life the Lovings' marriage and the legal battle that followed through little-known filmed interviews and photographs shot for Life magazine.
About the Presenters:
Ashley Biser, Ph.D., is a political theorist whose research interests are in contemporary political theory, focusing on the works of Hannah Arendt and Martin Heidegger. At Ohio Wesleyan, she teaches courses in Democracy and Its Critics; Classical Issues in Political Theory; American Political Thought; and Political Theory, Science and Technology.
Chad Johns, D.Min., joined the OWU Chaplain's Office in 2005. His academic interests include narrative identity, Trinitarian theology, and the intersections of theology with both science and sexuality. At OWU, he serves as director of the spring break mission week program, works closely with the campus gay, lesbian, bisexual, and transgender community, and has taught courses on the theological exploration of both speculative fiction and leadership and power.
About the Series:
Created Equal: America's Civil Rights Struggle is a special initiative of the National Endowment for the Humanities, as part of its Bridging Cultures initiative, in partnership with the Gilder Lehrman Institute of American History. The film and discussion series aims to encourage communities across the country to revisit the history of civil rights in the U.S. and to reflect on the ideals of freedom and equality that have helped bridge deep racial and cultural divides in American life:
Deeply grounded in humanities scholarship, the documentary films in the Created Equal series tell a remarkable story about the importance of race in the making of American democracy; about the power of individuals to effect change; and about the historical contexts in which Americans have understood and struggled with ideas of freedom, equality and citizenship. The films address events from the 1800s through 1965 in the United States. Each of the films was produced with NEH support and each highlights individuals who challenged the racial, social and legal status quo of deeply rooted institutions, from slavery to segregation.
Contact Dee Peterson, Coordinator of User Services, at 740-368-3240 or dmpeters@owu.edu with questions about local events.