200 years after its original publication, the complete text and full illustrations of the nine volumes of Alexander Wilson's pioneering work American Ornithology, published in Philadelphia from 1808 to 1814, have been digitized and added to the OWU Digital Collections. It was published a generation before J. J. Audubon's The Birds of America. (1827–1839).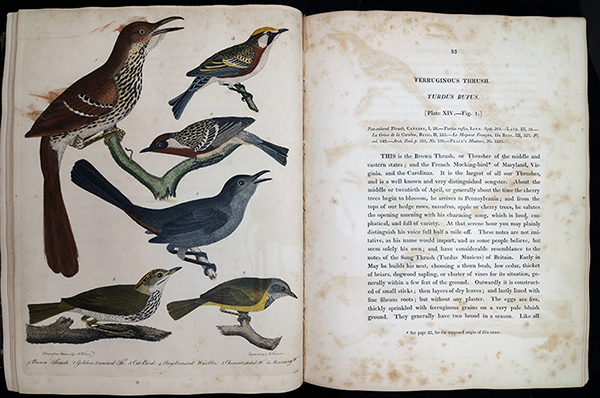 Wilson (1766-1813), a not-so-successful poet from Scotland, and a teacher, who, under the guidance of William Bartram, became a self-taught artist and naturalist, and after dedicating himself to the study and description of birds and to the dream of making "a collection of all of our finest birds", earned himself posthumously, through this publication, the title "Father of American Ornithology."
He described his work for the drawings in a letter to Thomas Jefferson (6 Feb. 1806), perhaps hoping to join an expedition to explore the Ohio and Mississippi rivers planned by the President:
"Having been engaged, these several years, in collecting material, and furnishing drawings from nature […], I have traversed the greater part of our northern and eastern districts and have collected many birds undescribed by […] naturalists. Upwards of one hundred drawings are completed…." (Burtt 2013, 41)
His study of the birds was to record more than their physical appearance. He speaks as a true naturalist in his introduction to Volume 1, writing:
"It is also my design to enter more largely than usual into the manners and disposition of each respective species; to become, as it were, their faithful biographer, and to delineate their various peculiarities, in character, song, building, economy, &c. as far as my own observations have extended […] noting their particular haunts, modes of constructing their nests, manner of flight, seasons of migration, favourite food, and numberless other minutiae, which can only be obtained by frequent excursions in the woods and fields, along lakes, shores, and rivers, and requires a degree of patience and perseverance, which nothing but an enthusiastic fondness for the pursuit can inspire." (Wilson 1808, 2)
A symposium organized by Ohio Wesleyan University Professor of Zoology Edward H. Burtt titled "Alexander Wilson and the Making of American Ornithology" will be hosted at Ohio Wesleyan University on April 23, 2014.
References:
Burtt, Edward H., Jr. and William E. Davis, Jr. Alexander Wilson: The Scott Who Founded American Ornithology. Cambridge, Massachusetts: Harvard University Press, 2013.
Wilson, Alexander. American Ornithology; Or, the Natural History of the Birds of the United States, Vol 1. Philadelphia: Bradford and Inskeep, 1808-14.