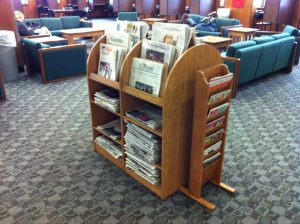 Relax in Beeghly's Bashford Lounge with your favorite magazines and newspapers. Find the most recent issues of our subscription newspapers as well as several popular magazines displayed there for your reading pleasure. Titles include:
Magazines: Christian Science Monitor, Ebony, Economist, Essence, Fitness, Fortune, Money, Ms, National Review, New Republic, New Statesman, El País Semanal, and Sports Illustrated.
Newspapers: Columbus Dispatch, Delaware Gazette, International Herald Tribune, Le Monde, New York Times, El País, Plain Dealer, Times of London, Transcript, Wall Street Journal, and Washington Post.
Most recent issues of the newspaper titles will also be located in the Bashford Lounge, while some older issues of the magazines will remain on the lower level with the remainder of the periodicals.
Let us know if you have any questions whatsoever. Happy reading!