When you're gearing up to begin research for a new assignment or project this semester, try Summon, a new search tool on the library's home page at http://library.owu.edu. You can access the Summon search box by clicking on the Summon tab.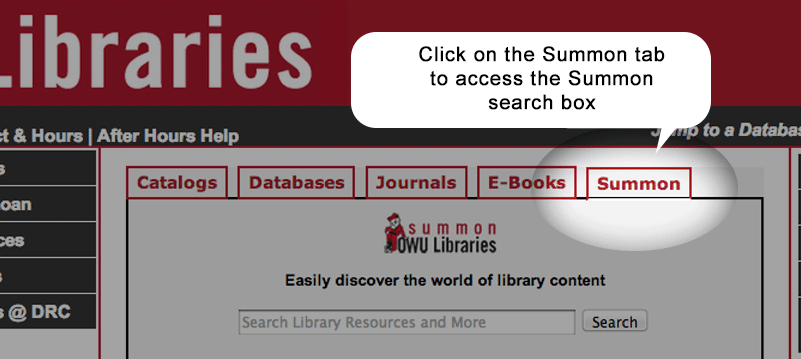 Summon is a new website that lets you search for books, articles, ebooks, media, maps, government documents, musical scores, and lots more from a single keyword search box and access many items immediately when they are available online. Summon includes the entire CONSORT Library Catalog, many of the library's digital collections, and the majority of articles and ebooks from research databases the library offers.
Limit your results to items available instantly online, items from scholarly publications, or to just books if you like. You can also save items you find interesting and email them, print them, or export them to a reference or citation manager like RefWorks.
The library is continuously evaluating Summon and welcomes your feedback, both good and bad, about your experiences using it. The site is designed to be easy to use, but there is plenty of additional help available in our Summon guide or by contacting the library at refdesk@owu.edu.